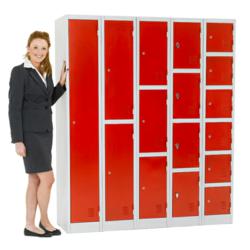 (PRWEB UK) 2 July 2012
Whatever the school environment; safe, sturdy and secure storage is a must. Action Storage has launched the Atlas Locker, range in red, in addition to the blue and grey door options, and is available from stock and can be delivered in days.
The steel lockers are available in a variety of door options (1, 2, 3, 4 or 6) to suit different environments. Each one is coated in an anti-bacterial layer and comes with a removable barrel so that doors can be replaced quickly and easily if damaged.
Popular with schools, the Atlas Locker is a cost effective solution for students who need to store their books and belongings during the day. Each door comes with a standard cam lock or swivel catch but padlocks can be added as an optional extra. If sports changing facilities are required the single door locker comes with a shelf for PE bags, removable hanging rail and two coat hooks – so there's plenty of room to store uniforms and other belongings securely whilst the lesson is taking place.
The smart steel grey body looks tidy in any academic environment and the smaller lockers are suitable for storing books or items that need to be locked away. Strong and durable the Atlas Locker range can easily cope with every day wear and tear.
Available in red, grey or blue doors each locker is supplied with a standard key lock and two keys. Choose from two different base sizes to suit your requirements.
Prices start from just £22.50 PER COMPARTMENT exc. VAT

Delivered for FREE within 4 working days
Free delivery to mainland UK
Master Keys available from £8.50 each
About Action Storage
For over 26years Action Storage (http://www.action-storage.co.uk) has supplied shelving, racking and other storage equipment using the latest materials and innovative designs. Its clients include supermarkets, warehouses, government offices and anyone else requiring high quality storage systems throughout the UK and mainland Europe.
Action Storage prides itself on its high service levels, and provides a free, unique advice line for discussing your requirements and assessing the perfect storage solution.