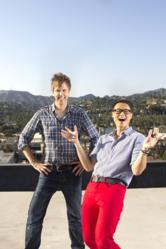 We love getting deals but don't love sifting through dozens of emails to find the deal we want.
Los Angeles, CA (PRWEB) July 23, 2012
There's a new app in town designed to cut down inbox clutter and give only the best in daily deals, tailored to personal preferences – Ruthie (http://ruthie.co). Built by and for adventurers looking for the coolest, undiscovered city gems, Ruthie promises to be a total lifestyle experience, alerting to the hottest offers from companies like The Daily Hookup, Gilt Group, Groupon, Living Social and KGB deals. The addition of an edited selection of the best in blogs makes Ruthie a one-stop destination for a fabulous and connected lifestyle.
Created by the dynamic duo of DJ/tech innovator Christian Burkholder (LA's indie 103.1, Swiss American Federation, MassMusic) and fashion photographer/restaurateur/entrepreneur Kaleb Khu, Ruthie offers the best in shopping, dining, beauty and more. Want to know what everyone is saying? The app instantly connects to Yelp reviews. Users can tag deals to buy later, find deals by city or by their GPS location, and share their scores via Twitter and Facebook.
"We love getting deals but don't love sifting through dozens of emails to find the deal we want," says Christian B, President, Ruthie Inc. "Ruthie offers a super-convenient app that lets users eliminate the clutter – instead of having to go through 10 different deals apps plus search for a bunch of different blogs, our curated lifestyle approach helps users save both time and money."
More than a deals aggregator, Ruthie also boasts a hotlist of the top blogs in fashion, dining, tech, gossip and more, all mobile-optimized and within the Ruthie app. Whether searching for music news from Pitchfork or the latest scoop from Just Jared, Ruthie's got it covered.
Ruthie has affiliate relationships with each of the deals sites they work with, sharing revenue with the site and the business. They are launching in 69 cities and metropolitan areas nationwide. Ruthie is free on in the Apple platform, with plans for an Android app as well as additional deals sites and deeper market penetration in the near future.
For more info please visit http://ruthie.co