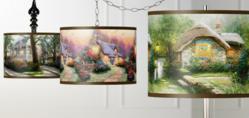 The Thomas Kinkade Lighting Collection makes the artist's classic paintings available for the first time on giclee style art shades.
Los Angeles, CA (PRWEB) July 10, 2012
Lamps Plus, the nation's largest specialty lighting company, announced today that it is has made reproductions of Thomas Kinkade paintings available on lighting designs through its Thomas Kinkade Lighting Collection. The collection, part of a licensing deal with the Thomas Kinkade Company, uses a giclee printing process to reproduce the paintings onto art shades for table lamps, floor lamps, chandeliers and other lighting designs.
Thomas Kinkade was born in the small country town of Placerville, California, and became one of the most collected artists of his time. Some of his most popular original paintings are among those available as giclee printed art shades from Lamps Plus. The classic cottage gardens and pastoral scenes of the "Collector's Cottage", "Dogwood Chapel", "Friendship Cottage" and "Glory of Evening" are among the many paintings reproduced.
Speaking about the collection, Lamps Plus owner and CEO Dennis Swanson commented, "We are very pleased to be able to offer the wonderful work of Thomas Kinkade to our customers. It's an honor for us to be associated with such a world-renowned artist, one whose artwork has proved to be so inspirational and joyful to so many over the years."
The Lamps Plus lighting designs utilize a sophisticated giclee print process. "Giclee" is a French word that refers to the process of making an art print with ink-jet printing. Lamps Plus uses state-of-the-art, large-scale printers that are commonly used for fine art reproductions to create the Thomas Kinkade Lighting Collection.
Thomas Kinkade paintings are currently offered on two styles of giclee printed shades: Giclee Glow and Giclee Gallery. Giclee Glow shades are made using a translucent canvas material. This material allows light to shine thru the shade, illuminating the shade's pattern and colors from within. The Giclee Gallery shades are opaque, channeling light upwards and downwards. They are printed on a special 100-year archival quality canvas, and use fade-resistant archival inks in the printing process.
Says Kristen Barthelman, Director of Licensing for the Thomas Kinkade company, "Thomas Kinkade's inspiring works offer a place of refuge in today's often hurried, complex world by focusing on the things that matter most: family and faith, a loving home, and the people who know and love us. We are pleased to be partnering with Lamps Plus while Thom's art embellishes their outstanding line of giclee décor products."
About The Thomas Kinkade Company
The Thomas Kinkade Company publishes the work of Thomas Kinkade and distributes his art and related collectibles through a global network of independently owned galleries, an extensive network of branded and licensed dealers, and strategic marketing relationships. Mr. Kinkade's artistry includes imagery of gardens, cottages and estates, cityscapes, plein airs, holiday scenery, and commemorative American landmarks. Known as the "Painter of Light™," he is the most collected artist of his time. The Thomas Kinkade Company will continue to create quality products that will help preserve his legacy as "The Painter of Light™." For more information on Thomas Kinkade licensing opportunities, please contact Kristen Barthelman at k.barthelman(at)kinkade(dot)com or call 408-201-5273.
About Lamps Plus
For more than 30 years, Lamps Plus has been synonymous with excellence in the lighting retail industry. Established in 1976, Lamps Plus is the nation's largest specialty online lighting store with more than 40 superstores throughout the western United States. Together with their retail lighting stores and online business, Lamps Plus serves customers nationwide with the largest selection of functional and decorative lighting fixtures, accessories, furniture and home décor. This selection includes hundreds of products available exclusively from Lamps Plus. Services include in-home lighting consultations, in-store lighting workshops and installation from expert, licensed electricians. American Lighting Association certified lighting designers are available to offer product recommendations and lighting advice in all our stores, by phone or online at LampsPlus.com.