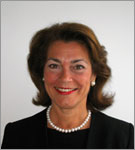 Despite the security challenges social media presents, family offices are rapidly working to leverage these tools for maximum positive impact."
-- Linda Mack
Chicago, IL (PRWEB) July 04, 2012
Linda Mack, founder and president of Mack International, a premier retained executive search and human capital/talent management consulting firm, participated in a Trends in Family Offices panel at the ivy Family Office Network (ivyFON) Mid-2012 Family Office Outlook event held June 28 at the Marriott Hotel, 540 North Michigan Avenue, Chicago.
The ivyFON seminar Mid 2012 Family Office Outlook explored Trends in Family Offices. The event is designed for individuals working for single family offices, ultra-high-net-worth investors and multi-family offices and/or for those who presently run or are considering launching a family office. A variety of experts covered topics such as private equity secondary markets, emerging alpha-generating strategies, non-correlated investing, and due diligence and continuous risk management.
"The seminar allowed attendees to learn about the latest issues affecting family wealth," Mack explains. "Seminar participants benefited from expert insight and discussion among high-profile members from across the industry."
Linda Mack participated in the panel carrying the theme for the day -- 'Trends in Family Offices'. "I discussed trends in staffing, compensation, outsourcing, technology and risk management, as well as next generation engagement, education and leadership," said Mack. "We also looked at the inevitable issue of social media as not just a trend, but an essential part of communications across generations. Despite the security challenges social media presents, family offices are rapidly working to leverage these tools for maximum positive impact."
The panelists also shared perspectives regarding the impact of financial markets on family risk and investment management, as well as the trend of single-family offices merging into multi-client family offices.
John Duncan, Partner, Kozusko Harris Duncan, moderated the panel that also included Joe Calabrese, President, Harris MyCFO and Cara Mossington, Director of Marketing, Calamos Investments.
Mack International, LLC, headquartered in Chicago, is a global retained executive search and consulting firm serving national and international clients in the family office/wealth management industry. For more information, visit http://www.mackinternational.com or call 800.976.0015.