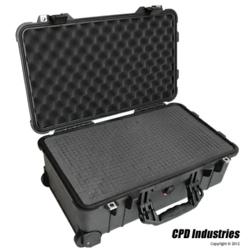 Dimensions meet FAA maximum requirements, so no worries - it will fit into overhead bins without a fuss.
Montclair, CA (PRWEB) July 10, 2012
CPD Industries has expanded its custom foam capabilities with the world's largest carry-on known as the Pelican 1510 case, to meet the demands of travel warriors. Globetrotters can now pack as they please when preparing for long trips that require easy access to important belongings.
The Pelican 1510 offers plenty of room for travel items because it is the largest airline carry-on available. Dimensions meet FAA maximum requirements, so no worries — it will fit into overhead bins without a fuss. And with 0.96 cubic feet of usable storage space, travel warriors can fly with their favorite clothing, gear and digital equipment, such as laptops, the Apple iPad and other tablets.
The spacious padded interior is matched by a strong exterior constructed from ultra high-impact structural copolymer polypropylene resin. The Pelican 1510 is virtually indestructible. That's why it flies with the Pelican legendary unconditional lifetime guarantee of excellence. Despite its tough-guy persona, this carrying case is stylish and easy to lift because this lightweight reusable carrying case is fitted with a side and front handle.
An extendable handle and embedded wheels allow travelers to quickly steer through airports and avoid clumsy baggage handlers. Stainless steel hardware and padlock protectors provide hefty security against theft.
The travel-ready case is fitted with ABS easy-to-open double-throw latches. A 0.25" (6.4 mm) o-ring seal keeps the Pelican case airtight and waterproof. And an automatic pressure equalization valve adjusts to changes in atmospheric pressure.
Harsh environments and extreme weather conditions are no problem. The case is buoyant up to 64.2 lbs, and can survive a temperature range of -40 to 210°F. The Pelican case also sports an IP 67 rating that guarantees that this item is dust and sand proof and can withstand temporary submersion in water. Other certificates include MIL C-4150J and DEF STAN 81-41/STANAG 4280. The waterproof case is also airline safe with a category ATA 300 rating. Crushproof and resistant to chemicals and solvents.
This case is available empty or with Pick N Pluck foam, with high-density Polyethylene, a padded divider set, anti-static foam, 1" thick wall foam liner, or for best protection - with a custom foam interior.
Photographers may prefer the Photo StudioCruzer 1510, which enjoys the same features and can carry an Apple (15" or 17") MacBook in the lid of the case, while housing a favorite SLR camera in the padded divider section in the body.
The 1510 exterior dimensions are a trim 22"L x 14"W x 9"H. The case weighs only 12 lbs. when empty; with foam, 13.6 lbs.
Available in black (stock color, ready for shipping within 24 hrs). For Desert Tan, please check availability. Longer lead times apply.
The CPD Industries network of companies provides the community with the most comprehensive packaging solutions available on reusable carrying cases for the consumer, military, and industrial markets. For more info about the Pelican case, visit http://www.casesbypelican.com; call 800-882-4730 in the U.S. or 909-613-1999 internationally; fax 909-465-5598; or write to CPD Industries at 4665 State Street, Montclair, CA 91763.