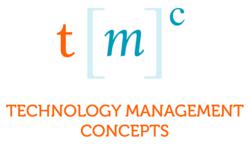 This ranking is a direct result from the dedication and hard work by our employees, as well as the trust and relationships we have built over the years with our customers
Los Angeles, CA (PRWEB) July 03, 2012
Technology Management Concepts(TMC) was named a 2012 Top 100 VAR again this year according to Bob Scott's Insights, which is a leading trade publication specializing in mid-market financial software. The Top 100 VARs (Value Added Resellers) are chosen from organizations specializing in the sale and implementation of Enterprise Resource Planning and accounting software.
"We want to congratulate this year's class of Bob Scott's Top 100 VARS," said Bob Scott, executive editor of Bob Scott's Insights. The selection of VARs is based on annual revenue generated by each reseller. A special report that includes names of the organizations selected for this year's Top 100 list, ranked by revenue, is downloadable at http://www.bobscottsinsights.com.
"We are honored and proud to be named as a Top 100 VAR again this year" said President of TMC Jennifer Harris. "We have built a culture here at TMC to expect to receive honors like this but we are always humbled when receiving them. This ranking is a direct result from the dedication and hard work by our employees, as well as the trust and relationships we have built over the years with our customers."
TMC is not new to receiving this honor from Bob Scott's Insights. They have been annually awarded this recognition as well as a Top 100 VAR by Accounting Today for numerous years in a row now. Further solidifying TMC as one of the top ERP resellers worldwide.
About Technology Management Concepts
TMC is a certified Microsoft Gold ERP partner for Microsoft Dynamics GP, Dynamics NAV, Dynamics CRM as well as a certified NetSuite Solutions Provider. TMC specializes in the implementation of financial and business management systems, helping their customers stream-line their processes and maximize productivity. TMC has been a leading VAR in the ERP world since 1987. For over 15 years, TMC has been a Microsoft Gold Certified reseller and implementer of the most widely used and adopted industry-leading solutions.