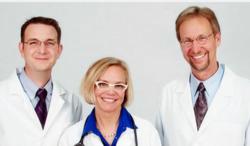 Instead of a stack of books, this generation of students needs a way to easily navigate to exactly what they want.
Salt Lake City, Utah (PRWEB) July 02, 2012
Amirsys announces the executive editing team for AnatomyOne, the ground-breaking anatomy resource scheduled to release next month. The team – consisting of David Morton, PHD; Mark Nielson, MS; and Lauren Zollinger, MD, MPH – provides an array of knowledge gleaned from lifetimes devoted to teaching and field experience.
David Morton, PHD, Editor-in-Chief
Dr. David Morton, a well-known author, is Associate Professor of Neurobiology and Anatomy and the course director for gross anatomy at the University of Utah School of Medicine. A large portion of Dr. Morton's career has been devoted to studying the use of technology in medical education, both here in the United States as well as in developing countries abroad. One of his guiding education philosophies is: "It is important what a teacher does; but, it is more important what a student does during the lecture hour." Dr. Morton practices this philosophy in his teaching and is eager to bring a similar approach to AnatomyOne as he looks for new ways to involve students in the process of learning anatomy.
Mark Nielson, MS, Anatomy Executive Editor
Mark Nielsen is a Professor in the Department of Biology at the University of Utah. In the past twenty five years, he has taught anatomy to over 20,000 students and trained 1,000 anatomy students to be teaching assistants in his cadaver lab. "Students need to master anatomy in the most efficient way possible," Professor Nielsen commented. "Instead of a stack of books, this generation of students needs a way to easily navigate to exactly what they want. AnatomyOne provides that efficiency." Nielsen has co-authored many anatomy learning materials including Principle of Anatomy 11th ed., Atlas of Human Anatomy, Real Anatomy, Human Anatomy Lecture Manual and Workbook, and Anatomica.
Lauren Zollinger, MD, MPH Clinical Insight Executive Editor
Dr. Lauren Zollinger oversees AnatomyOne's Clinical Insight team and is an accomplished practicing clinician. Her experience as a clinician has prepared her to teach a new generation of medical school students about the relationships between clinical anatomy and gross anatomy. This combination is likewise invaluable to the creation of content for AnatomyOne.
"AnatomyOne Clinical Insights, written by experienced physicians, bring detailed anatomy to life," says Dr. Zollinger. "Medical students need to learn what is clinically relevant about anatomy from day one."
To learn more about AnatomyOne, please visit http://www.anatomyone.com or http://www.facebook.com/anatomyone.
ABOUT AMIRSYS
Amirsys, Inc. is a leading provider of innovative online healthcare solutions in medical education, radiology, pathology, and surgery. Over 99% of North American academic medical centers use Amirsys products daily. Through use of its proprietary technology and image-intensive, expert and evidence-based content, Amirsys provides online problem-solving solutions to thousands of radiologists, pathologists, surgeons, and residents-in-training worldwide.