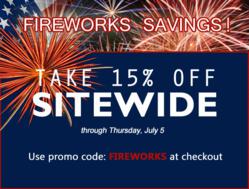 TigerChef wants to help our commercial customers get ready for the summer season...
(PRWEB) July 02, 2012
This discount allows TigerChef's customers to purchase their restaurant and catering supplies at a significant savings. It's an opportunity for professional chefs to cost effectively stock up on essential supplies to enhance their commercial kitchen and to augment summer menus with restaurant equipment like broilers, grills and french fry cutters.
TigerChef has made it easy for chefs to take advantage of these savings. When making an online purchase at Tigerchef, customers can simply enter promo code FIREWORKS at checkout. TigerChef.com showcases over 200,000 kitchen supplies, catering supplies and restaurant equipment from top performing brands across the U.S.A.
"July 4th usually means fireworks and picnics, but a national holiday also means more business for restaurant and bar owners. TigerChef wants to help our commercial customers get ready for the summer season by giving them an incentive to buy key products to help them run their business," said J. Stefans, president of TigerChef.
Restaurateurs and professional chefs value TigerChef as a full-service source for over 200,000 products, including bar supplies. TigerChef takes pride in serving their customers from start to finish. They don't just sell products, such as chef supplies and kitchen equipment; they use their knowledge to help their customers craft their industrial kitchens into ideal workspaces. TigerChef staff serve as consultants regarding the products that they sell and even assist with kitchen design. They work with hotel chains, restaurants, and other commercial facilities. For more information about TigerChef products contact Stacey(at)tigerchef(dot)com or call 877-928.4437.
*Some restrictions apply