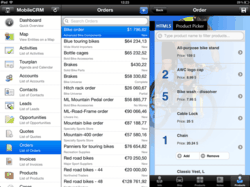 The HTML5 support is one of the most groundbreaking milestones in the history of Resco Mobile CRM
Bratislava, Slovakia (PRWEB) July 03, 2012
The new release is one of the most revolutionary updates in the entire history of Resco Mobile CRM. Actual HTML5 support together with a number of substantial improvements transforms Mobile CRM to a new level and proves its dominance in the mobile CRM industry.
HTML5
The most important part of the 2012 Extensibility Update is Resco JavaScript Bridge, which is provided for all available mobile platforms. It provides read/write access to the local CRM data from JavaScript. Thus, it is possible to run an HTML5 app in an embedded browser with full access to the local CRM data. The HTML5 component can run in full screen, or can be integrated directly with the standard Mobile CRM user interface.
With the new Extensibility Update, Resco starts off a new era of mobile CRM solutions and by the end of 2012 plans to release a brand new version of the Resco Mobile CRM app. The UI layer will be completely implemented by the HTML5 technology allowing web developers to perform mobile app customizations.
For more information about HTML5 support visit: http://www.resco.net/mobilecrm/html5.aspx
Email
The Mobile CRM app now supports send/reply/forward and auto track email in the Microsoft Dynamics CRM.
Filtered Lookups
This new feature is available in Mobile CRM Woodford, or Studio. It allows to:
o Filter lookup views according to fields from the source entity (e.g. show only account's contacts, opportunities etc.)
o Hide Views
o Select which views to use in Lookup
o Select which entity to initially select in Lookup.
Map and Navigation
o Each View under an entity with GPS coordinates (such as account, contact, or a custom entity) can be displayed as a standard list, or can be easily switched to a map view showing entity records as interactive pins.
o Navigate from my current position to an account, contact, lead, custom entity etc.
o Update current GPS position by tapping a button in the Address tab.
Auto Synchronization
The new feature allows to work with up-to-date data all the time. The App syncs automatically on start or resume and also after a change is made.
Activities
Activities were reengineered to a new way. Not only are they configurable in Woodford and Studio but even custom activity views can be defined. Among other news, user can now convert Appointment, Email or a Phone Call to Opportunity and Case.
Design
The iOS based Mobile CRM App was refurbished by adding animations and stronger support for gestures. The new design improvements contribute to enhanced user experience.
Online Mode
The online or offline mode can now be set per each view. Thus, some views may work in online mode only, while the others in combined. Moreover, synchronization filters apply per view in online mode too.
"Thanks to more than 13 years of experience in the mobile software solutions, Resco manages to bring innovations in an extremely fast pace also for the key product Resco Mobile CRM," said Ivan Stano, Head of Marketing. "The Extensibility Update is a clear proof of our technological leadership in the mobile CRM solutions."
The Extensibility Update sets a new trend and shifts the solution to a completely new level. It is a beginning of a new era, in which Resco customers and partners can expect big innovations in regular updates bringing extraordinary functionality and features. The new releases will add significant value and position Resco Mobile CRM a million miles ahead of the competition.
About Resco Mobile CRM
Resco Mobile CRM for Microsoft Dynamics CRM is an online/offline mobile client for iPhone/iPad, Android, Android Tablet, Windows Phone, Win CE and Windows 7/XP/Vista, with the support of features such as custom entities, interactive maps, GPS tracking, photo capturing, dashboards, and many more. The solution is fully customizable through easy to use configurator tool, or comprehensive .NET based developer platform with unlimited customization possibilities. Its technology leadership has been approved by adding the support of HTML5 and JavaScript allowing extending the mobile CRM application by web technologies.
For more info please visit: http://www.resco.net/mobilecrm/