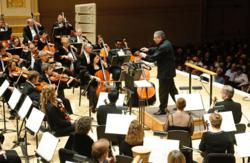 Toledo, OH (PRWEB) July 05, 2012
The Toledo Symphony 2012-2013 dates and concert information is as follows:
The Blade Chamber Series - Sundays at 7PM at the Toledo Club
Chamber I - 9/30
Schubert String Quartet in A Minor "Rosamunde"
Schafer String Quartet No. 5 "Rosalinde"
Schubert Trout Quintet
Chamber II - 11/4
Rossini Duo for Cello and Double Bass
Garfield Bassoon Quartet No. 1
Brahms String Quartet No. 3
Chamber III - 1/27
Wilder Sonata for Horn and Piano No. 1
Beethoven Sonata for Violin and Piano No. 4
Fauré Piano Quartet No. 1
Chamber IV: 4/28
Rheinberger Nonet
Brahms Piano Quintet
Key Bank Pops Series - Saturdays 8PM at the Stranahan Theater
Gary Puckett - September 29, 2012
Gary Puckett and his band The Union Gap were one of the most successful musical groups of the sixties. Gary's unmistakable signature voice garnered six consecutive gold records and top ten Billboard hits—including "Young Girl," "Woman Woman" and "Over You."
Patriotic Pops – A Salute to Veterans - November 3, 2012
Toledo Symphony with the United States Army Soldier's Chorus
Salute our troops with this special Veteran's Day concert in partnership with the United States Army Soldier's Chorus. This program has got it all—Sousa marches, an Armed Forces salute, memories of the Big Band era, Copland and Gershwin, plus the grand artistry of one of our Army's finest ensembles.
Jim Brickman Returns!– November 24, 2012
Toledo favorite and versatile, award-winning pianist Jim Brickman returns with an all new show—filled with memorable tunes, holiday hits and new compositions. Jim was thrilled to be invited back. The Toledo Symphony is thrilled to have him.
Cirque de la Symphonie - February 2, 2013
Witness the magical artistry of cirque performers with the Toledo Symphony. This beautiful and family-friendly program of popular classics soars to new heights on the wings of aerialists, jugglers, acrobats, strongmen and more!
Music of the Eagles - April 13, 2013
Toledo audiences voted at 2011's sell-out performance of the Music of Led Zeppelin, and this is the year! From the creators of the Music of Led Zeppelin and the Music of Michael Jackson comes…The Music of the Eagles. Randy Jackson and his band play it all--from Hotel California to Desperado--surrounded by the lush orchestral sound of your Toledo Symphony. It's the symphonic rock experience of 2013.
Broadway Rocks! - May 4, 2013
From Rock Operas (Jesus Christ Superstar, the Wiz & the Who's Tommy) to the latest generation of Broadway showstoppers (Jersey Boys, Rent & Mamma Mia!), Broadway Rocks brings together the best torch songs and anthems from two rockin' generations on the Great White Way.
Classics Series - Fridays and Saturdays 8PM at the Toledo Museum of Art Peristyle
All Rachmaninoff - September 21-22
Stefan Sanderling , conductor / Martina Filjak, piano
Rachmaninoff Symphony No. 1
Rachmaninoff Piano Concerto No. 2
Maestro Sanderling opens the season with a rapturous evening of Rachmaninoff. Dynamic young pianist Martina Filjak, recent winner of the coveted Cleveland International Piano Competition, performs the Piano Concerto No. 2, and the orchestra tackles the composer's posthumously rediscovered Symphony No. 1.
"Filjak leapt like a tigress devouring the bolder passages [of Rachmaninoff's Piano Concerto No. 2] with rollicking vehemence. Yet, its delicate fugal material she dispatched with the graceful airiness of a kitten."
The Cleveland Plain Dealer
Francophile Festival – Renzi Returns - October 19-20
Stefan Sanderling, conductor / Frances Renzi, piano
Chabrier Habanera
Franck Symphonic Variations
Berlioz Symphonie Fantastique
In October, the museum will unveil their Manet: Portraying Life exhibition. Great French Romanticists Chabrier, Franck and Berlioz were all contemporaries of the gifted Manet. TSO favorite Frances Renzi returns to perform Franck's masterful Symphonic Variations, a delightful dialogue between piano and orchestra.
A Soldier's Tale - November 16-17
Stefan Sanderling, conductor / Martha Reikow, Amy Chang, Damon Coleman, celli / Cornel Gabara, director / actors and dancer tbd
Beethoven Overture to Egmont
Penderecki Concerto grosso for three cellos and orchestra
Stravinsky Soldier's Tale
November brings a fascinating program to capture the imagination. TSO cellists present the Toledo debut of Penderecki's restive and haunting Concerto Grosso, and Cornel Gabara (of Carnegie collaboration) returns to direct Igor Stravinsky's Soldier's Tale in its full theatrical and balletic element.
An Evening of Symphonic Dance - January 18-19
Stefan Sanderling, conductor
Brahms Hungarian Dances
Kodaly Dances of Galanta
Liszt Hungarian Rhapsody No. 2 in D Minor
Bartok Dance Suite
Enesco Rumanian Rhapsody No. 2 in D Major
Dvorak Slavonic Dances
Start the New Year with an evening of symphonic dance! Experience the best of eastern Europe through folk melody as interpreted by the masters. Stefan Sanderling leads this rousing program.
Carmina Burana - February 8-9
James Meena, conductor / BGSU Choruses / Merwin Siu, violin / Vocalists
Rossini Overture to the Siege of Corinth
Say 1001 Nights in the Harem
Orff Carmina burana
O fortuna! Carmina burana remains one of the most popular works of classical music ever written. James Meena conducts the full power of the TSO and BGSU combined choruses for a rollicking journey from spirited song to sheer vocal strength. The concert opens with Merwin Siu and the North American premier of Fazil Say's 1001 Nights in the Harem. Hold on to your proverbial hats.
Beethoven's Pastoral - March 1-2
Jacques Lacombe, conductor / Georg Klaas, clarinet
Ravel Le Tombeau du Couperin
Mozart Clarinet Concerto
Beethoven Symphony No. 6 (Pastoral)
The intensity of February gives way to a truly delightful March program heralding hope for Spring. Beethoven's Pastoral Symphony is accompanied by Ravel's Le Tombeau du Couperin featuring our talented wind section and Mozart's beloved Clarinet Concerto with symphony all-star Georg Klaas. Jacque Lacombe, newly appointed Music Director of the New Jersey Symphony, makes his TSO debut.
"Lacombe shows great musicality, and outstanding sense of the structure of the works and of their expressive dimension, in short, already an undeniably talented conductor."
La Presse
Schubert's Great Symphony - March 22-23
Stefan Sanderling , conductor / Kimberly Loch, oboe
Brahms Tragic Overture
Strauss Oboe Concerto
Schubert Symphony No. 9 "The Great"
Schubert's "Great" Symphony pairs well with Strauss's great, final composition--his Oboe Concerto, exquisitely performed by Kimberly Loch.
Andalusian Virtuosity - The Romantic Guitar - April 19-20
Maximiano Valdes, conductor / Xuefei Yang, guitar
Moncayo Huapango
Villa-Lobos Guitar Concerto
Rodrigo Concierto di Aranjuez
Shostakovich Symphony No. 9
Guitar phenom Xuefei Yang graces the stage of the Peristyle for an evening of Spanish, Mexican and Brazilian showstoppers. Chilean conductor Maximiano Valdes completes this virtuosic program with the Symphony No. 9 of Shostakovich.
"Ms. Yang demonstrates her feisty virtuosity, impeccable technique and sensitive musicianship in repertory ranging from Albeniz to arrangements of Western pop and Asian songs ... Yang's guitar sings as if she had grown up in the shaded courtyards of Andalusia."
The New York Times
"The guitar world has a new star."
Gramophone
Alpine Adventure - May 17-18
Stefan Sanderling, conductor / Cornelia Herrmann, piano
Haydn Overture to L'isola dishabitata
Mozart Piano Concerto K. 491 in C Minor
Strauss Alpine Symphony
Stefan Sanderling leads the thrilling conclusion to the 2012-2013 season. The concise elegance of Haydn and Mozart contrast brilliantly with the audacious and bold Alpine Symphony of Richard Strauss.
Mozart and More Series - Saturdays 7:30PM at the Franciscan Center at Lourdes University
October 27 – Haydn's London Symphony
Jeffrey Pollock, conductor / Sandra Clark, horn
Beethoven Coriolian Overture
Strauss Horn Concerto No. 1
Haydn Symphony No. 104
January 26 – Vivaldi Duo
Conductorless / Kimberly Loch and Michele Smith, oboes
Mozart Symphony No. 21
Vivaldi Concerto for Two Oboes
Haydn Symphony No. 54
March 16 – Mozart's Linz Symphony
Jeffrey Pollock, conductor / Sally Rochotte, timpani
Mozart Overture to La Betulia liberata
Mozart Symphony No. 32
Druschetzky Timpani Concerto
Mozart Symphony No. 36
March 10 – Bruckner in Rosary Cathedral
Stefan Sanderling, conductor
Bruckner Symphony No. 2
April 6 – All Bach
Stefan Sanderling, conductor / Valentin Ragusitu, viola
Bach, CPE Sinfonia
Bach, JC Viola Concerto
Bach, PDQ Canine Cantata "Wachet Arf" K. 9
Bach, J.S. Orchestral Suite No. 1
Family Series - Sundays at 3PM at the Toledo Museum of Art Peristyle
October 28 - Halloween Spooktacular with the Toledo School for the Arts
January 13 - On Pointe with the Toledo Ballet
April 7 - The Big Dig with the Toledo Botanical Gardens
May 12 - Molto Bravo with the Toledo Opera
###