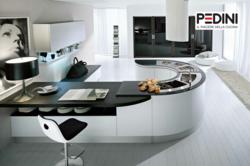 The Pedini London Showroom will be launched on 5 July with a launch party co hosted by PediniLondon and Domus Tiles.
(PRWEB UK) 3 July 2012
Lida Cucina, the Italian furniture specialists based in Berkshire announce the launch of their new London showroom. Following the success of their collaboration with designer kitchen manufacturers Pedini at their Berkshire showroom a dedicated Pedini kitchen showroom is being opened in Battersea trading under the name Pedini London.
The showroom is situated within the same building as Domus Tiles (http://www.domustiles.co.uk) who are the UK's leading supplier of tile, mosaic and stone products to the residential developer and the architectural specification markets. Pedini London will primarily be a trade showroom and with the two businesses being under the same roof will offer great referral and business opportunities to each other.
The Pedini London Showroom will be launched on 5 July with a launch party co hosted by Pedini London and Domus Tiles. Pedini London are very excited to have celebrity chef Aldo Zilli joining them for the evening who will be running two demonstration cookery events using the Sub Zero Wolf appliances. The launch party is invitation only and for further information please contact Sandra Hendry on 01189 241605.
The new Pedini London Showroom will be at 76 Queenstown Road, London SW8 3RY and will officially open for business on 9th July. For more information about Pedini London please contact info(at)pedinilondon(dot)co(dot)uk or call (01189) 241608. Visit their website at http://www.pedinilondon.co.uk
Opening hours will be Monday to Friday 9.30-5.30, and the Showroom telephone number is 0207 720 8311(but this will not be fully operational until after the 5 July.
About Lida Cucina
Berkshire-based kitchen and fitted furniture retailer Lida Cucina started life as Lida Italia, an Italian kitchen specialist owned by brothers-in-law John Harvey and Michael Gianquitto whose main client at the time was Alexander James Interiors (http://www.aji.co.uk). In 2005, the company became Lida Cucina, with Alexander James founder Robert Walker becoming a Board Director with Michael Gianquitto and John Harvey. The showroom, offices and design studio are on the same site as the Alexander James business, in the leafy village of White Waltham on the outskirts of Maidenhead. The company installs between 50 and 60 kitchens a year, ranging in price from £25,000 to £150,000, and employs 22 people, including a dedicated fitting team.
At the end of last year, the company became an agent of Pedini – making it one of only two on the UK mainland – and refurbished its showroom to introduce displays from the company.
For further information on Lida Cucina please visit http://www.lidacucina.co.uk
Contact: Sandra Hendry
Telephone: (01189) 241608
Email: sandra(at)lidacucina(dot)co(dot)uk