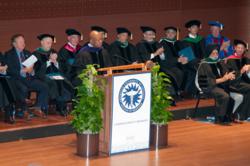 If it was not for good doctors, my mother and I would not be alive today.
NEW YORK (PRWEB) July 05, 2012
Students and parents congregated together at the sixth commencement ceremony of American University of Antigua College of Medicine in Lincoln Center.
In the prestigious Alice Tully Hall setting, the graduates were adorned in the traditional black caps and gowns. The keynote speaker was Maryland Congressman Elijah Cummings, whose dynamic address commended the soon-to-be doctors for their dedication to serving their communities.
Founded in 2004, AUA, based in the Caribbean island nation of Antigua and Barbuda, is affiliated with the prestigious Manipal University in India, which is known for its excellent medical programs that attract students from more than 52 countries.
The diverse group of graduating students could barely contain their excitement, waiting anxiously for the end of the ceremony and the beginning of the next chapter of their professional careers.
Neal Simon, president and one of the founders of AUA, noted that this was the largest graduating class to date. Also in attendance were Dr. Seymour Schwartz, AUA's provost; Dr. Jagbir Singh Nagra, executive dean and vice president of the university; and Dr. Peter Bell, AUA's executive dean for clinical sciences.
Soft-spoken Simon was quick to offer advice to the graduating students, although he admitted, with some embarrassment, he could not remember his own graduation speakers. "Our graduates have made a lot of personal and financial sacrifices while going through a very rigorous medical education program," he said. "It will only get better, and more rewarding, from here, and you should reflect, deliberate and take some risks."
Dr. Schwartz, best known for his textbook Principles of Surgery, which is considered by many the definitive textbook on the practice of surgery, said while the students began their journey on the island nation of Antigua and concluded it with their degrees on another island, Manhattan, they must never act as if on an island—in isolation. "You must never practice in isolation or treat your patient in isolation," he said emphatically. "You will now be part of a team, and respecting your co-workers and your patients is paramount in becoming a skillful physician."
Dr. Nagra, the founding dean and director of the Manipal College of Medical Sciences, Nepal, said these were challenging times for the medical profession. With rising costs and an aging population, he called upon the graduates to think carefully about their roles. "Despite all the technological advances, the patient is still at the center of this profession," he said. "Be kind, sensitive and passionate."
Dr. Bell said the students must now leave the safe harbor of AUA and complete the "challenging transition from a medical student to a doctor on their own."
Congressman Cummings gave, perhaps, the most impassioned speech, on how the medical profession touches the lives of so many people. He congratulated the AUA faculty, the graduating students and the parents for nurturing the graduates who will join a respected and honored profession at the center of American society. "If it was not for good doctors, my mother and I would not be alive today," Cummings said. "I urge you to practice medicine in underserved communities."
The speeches were followed by a stirring valedictory address by Whitney Boling, who secured her residency at Detroit Medical Center at Wayne State University. The next speaker was alumnus Dr. Ehsan Esmaeili, who graduated with AUA's first class in 2007 and is now beginning a prestigious fellowship in hand and microvascular surgery at the University of Connecticut.
Dr. Esmaeili recalled an incident from the third year of his residency that changed his medical career forever. He received a page from one of the floor nurses, whose patient was blue and unresponsive. After he rushed to see the patient, he very quickly knew the prognosis was bleak, given the patient's deteriorating condition. Using some complex operative maneuvers, Dr. Esmaeili saved a patient who was at the brink of death.
"When I went to see that patient the following morning, I was approached by two of his visitors. They asked if I was Dr. Esmaeili. I hesitated for a second, not knowing what they were about to say, but I cautiously answered, 'Yes.' The next thing I know I was in a three-way bear hug by the patient's two daughters, who heard that I was the attending physician. They held me for a long time, crying and repeating the words 'Thank you so much for saving our father; he is all we have left," Dr. Esmaeili recalled. "After that moment, it became clearer to me why I became a physician. A situation like that makes you appreciate all those hard years of studying and makes you feel proud that you had a part in saving somebody's loved one."
The graduates then took the ceremonial Hippocratic Oath and Dr. Schwartz conferred their degrees.
A reception followed in the Grand Foyer at Lincoln Center.