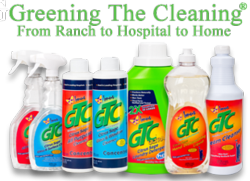 I dropped a bit of salad dressing on my sweater while in the process of my daily wipe-up of my kitchen with this product. I sprayed a drop of "Greening the Cleaning" on the spot , rubbed a bit and it disappeared. Thanks for a great product!
—M. Hilton
New York, NY (PRWEB) July 03, 2012
United Natural Foods, Inc., the largest distributor of natural, organic and specialty products in the United States, now has the GTC Green Cleaning Products available for retailers across the country. UNFI distributes natural and organic products to 17,000 retail customers from distribution centers throughout the U.S.
UNFI was recognized by Fortune Magazine as one of the Most Admired American Companies in 2012. Food Logistics magazine has named UNFI One of the Top 20 Green Providers of 2012.
The GTC retail product line was developed at the Deirdre Imus Environmental Health Center at the Hackensack University Medical Center.
The award-winning GTC Green Cleaning Products include Citrus Sage All Purpose Cleaner, Citrus Sage Glass & Surface Cleaner, Citrus Sage Ultra Laundry Detergent and Citrus Sage Hand Dishwashing Liquid.