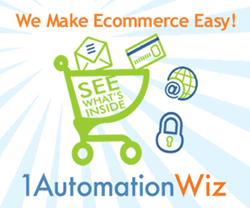 '1AutomationWiz took our businesses from 4 figures to 5 figure earnings in less than a month!' - Andy Jenkins, AndyJenkinsBlog.com
St. Louis MO (PRWEB) July 02, 2012
Ecommerce automation provider 1AutomationWiz.com announces updates to their affiliate partner program and invites all potential affiliates to check out the new features and commission structure.
Most affiliates look for the same features in an affiliate program such as bigger commissions, product conversion, reputation and more. 1AutomationWiz.com promise to deliver an evergreen product for affiliates efforts and pay them an industry leading 20% for life, per each customer they refer.
This opportunity is great for webmasters, web designers and affiliate marketers to join the new affiliate program offered by 1AutomationWiz because there is a lot to present. "All affiliates have to do is to refer traffic to their personal affiliate link and let the us do the selling," says Don Schnure, president of 1AutomationWiz.com. "Unlike ecommerce some shopping cart providers, 1AutomationWiz offers 10 year tracking on their affiliate cookies and ID numbers to ensure proper credit to those who refer new customers," says Schnure.
To make affiliates life easier 1AutomationWiz provides advanced features such as real time stats, an affiliate personal control panel, automatic payments after 30 days, instant notification of each new sale via email and much more.
In an online interview with one of the webmasters of 1AutomationWiz.com says: "If only affiliates realize how much they could be making, they would definitely consider promoting 1AutomationWiz over other affiliate offers out there. Through the current 1AutomationWiz affiliate program we have affiliates consistently earning anywhere from $500 to 12,000 in residual income every month and all they have to do is to refer a customer one time."
Considered one of the easiest affiliate program programs out there, the 1Automation Wiz shopping cart solution is in use by 1000's of online businesses; it is a highly regarded and notable brand which gives its affiliates an instant credibility when promoting the product.
http://www.youtube.com/embed/5iUzH88UzpQ
Since 2001, 1AutomationWiz is the original "all-in-one" ecommerce software solution designed for online merchants just starting, building, and growing their online business and who don't want to have to manage multiple software solutions.
For more information contact:
Don Schnure
1(800) 671-3871
http://www.1automationwiz.com