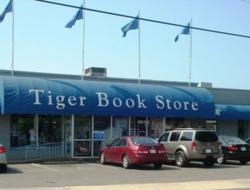 "In the Mid-South, 20% of the population struggles with food insecurity, meaning they are not sure if they will have food to eat today or tomorrow. That is 406,600 people, one-third of them children."
Memphis, TN (PRWEB) July 05, 2012
Tiger Bookstore will be offering a discount for all of July to encourage Memphis Tiger fans to donate food or money to help provide food to over 406,600 hungry citizens of the Mid-South. The discount can be applied to any one item, including University of Memphis apparel such as hoodies, shorts, polos. Also discounted are Memphis Tiger Bookstore items like tailgating gear, children's apparel, and alumni merchandise. Offer excludes textbooks, trade books, electronics, and sale items.
The Mid-South Food Bank will have one of their 20-ton trucks on site July 25th to receive food donations along with volunteers to receive cash donations. Barbara and Tom Southwell began and organized this event and have involved local sponsors, such as Mayor Mark Luttrell, FOX 13, Finard Properties, Dr. Kenneth Robinson, and Tiger Bookstore.
The Southwells began the event because of their concern about the increasing difficulty that Mid-South citizens, especially children, were having dependable access to food.
"In the Mid-South, 20% of the population struggles with food insecurity, meaning they are not sure if they will have food to eat today or tomorrow. That is 406,600 people, one-third of them children," says Barbara Southwell, event organizer. "We are so excited about having Tiger Bookstore on board. Lord, how I LOVE Tiger Bookstore!"
As a local business that's been serving Memphis and the Mid-South since 1964, Tiger Bookstore understands the importance of having a strong, supportive community and is actively involved in the local community.
"We really hope we can rally Memphis Tigers fans to step up and donate!" said Tiger Bookstore's General Manager and Chief Operating Officer. "A discount on Tiger apparel and gifts is the least we can do as an incentive to help feed the Mid-South hungry."
Tiger Bookstore is the only stop for Memphis Tigers fans and University of Memphis students and alumni, offering the largest selection of U of Memphis clothing and gifts. Tiger Bookstore is also the best local source to buy, sell, or rent textbooks and college books. A staple in the community, since 1964, Tiger Bookstore has consistently given back to the Memphis community, and participating in this year's Summer Harvest Food Drive is just the latest of their ongoing efforts in the Mid-south community.