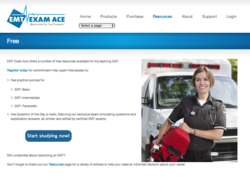 These free practice quizzes are intended to give all aspiring EMTs with an opportunity to preview our content before buying.
Boston, MA (PRWEB) July 02, 2012
EMT Exam Ace, a Boston-based test preparation program for EMT certification, recently launched three new EMT practice quizzes available to non-subscribers.
"As consumers, we should know what we're buying," says Ted Chan, founder of TestConquest, EMT's affiliate website. "These free practice quizzes are intended to give all aspiring EMTs with an opportunity to preview our premium content before buying."
In order to access the content, users need to register for a free TestConquest account that will give them full access to the preview content. The user portal gives each registered user access to three EMT practice quizzes, a comprehensive exam history, and exam performance section. The user account extends to all products powered by TestConquest, including VTNEPrep and other upcoming preparation programs for exams like Praxis II and the Foreign Service Officer Test (FSOT).
Each practice quiz features 20 realistic multiple-choice questions that are in the same question format as the paid EMT Exam Ace content and the actual NREMT certification exam.
The questions are categorized by core EMT topics: airway, cardiology, medical, operations, and trauma.
"The test-taking system of the practice quizzes is nearly identical to that of the actual paid version," says Samantha Tanzer, EMT Exam Ace product development manager. "In the paid version, you get over 1,000 questions for either Basic, Intermediate, or Paramedic in addition to several study and review guides."
Tanzer recommends taking advantage of the free practice quizzes before buying the product. Signing up for an account is risk and spam free. "We want to make sure you purchase the study guide that is right for you," she says.
EMT Exam Ace is an upcoming website that provides comprehensive online review courses at the EMT Basic, Intermediate, and Paramedic levels. Boston-based TestConquest, its parent company, is an educational enterprise providing professional certification preparation solutions. Visit http://www.emtexamace.com to learn more about how you can ace EMT certification.