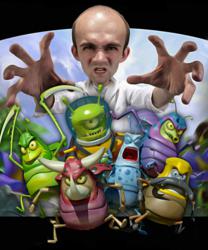 How do you get people who don't usually talk about games to talk about your game?
(PRWEB UK) 2 July 2012
GrinLock are in the final stages of the development of their soon to be released game, Jumping Jupingo. They've now started a crowd funding campaign, hosted on Indiegogo.com, to raise funds for marketing the game. The funds will be used to create cartoons, posters, animation clips and paper craft designs of the game's characters for people to share on Facebook, Pinterest and elsewhere.
"We are very excited about this crowd funding campaign," said Philippe Ingels, CEO of GrinLock. "Not only does this give us the opportunity to get the community involved in funding the campaign, contribute ideas and follow our progress through the development process of the marketing material but they get to be the first to share the cartoons, posters and other material we will be developing."
The crowd funding campaign also offers some awesome rewards for various levels of pledges. This is certainly the first time someone can get a bug dropping named after them, get it placed in a planetarium for bug dung, and feel proud about it. There is also the opportunity to get the game's artists to create a paper craft model or unique caricature poster of you together with the game's horde of bugs.
"The uniqueness of this campaign is getting people involved in the marketing and promotion of a game," Philippe said. "People have always been brilliant marketers through word-of-mouth. We want them to be part of the campaign's creation process. Not only that, we will share with them the statistics of the campaign so they can see how well we're doing. They will be an integral part of what we hope will be a huge success story."
GrinLock is focused on raising $32 000 with the crowd funding campaign. This will allow them to create 20 cartoon strips, five posters, 3 animation clips and a set of paper craft designs of the seven game characters. People will eventually be able to download, print and build the paper craft characters, photograph them in a funny situation and then enter the photo in a competition.
"We asked ourselves how we can get people who don't usually talk about games to talk about our game." Philippe said. "The answer we came up with was to create easy-to-share cartoons and other entertainment based on the game's characters. People love sharing humour in the form of imagery and video. Every bit of entertainment shared from our campaign will generate more awareness about the game."
To find out more about the campaign and to get involved, please visit: http://www.indiegogo.com/jumpingjupingo
About Jumping Jupingo the game
Jumping Jupingo is a breathtaking, vibrant puzzle platform game with a lot of spin in the mix. Players will be able to guide Jupingo, a little jumping spider, around 30 spectacular environments that will make your screen ooze with visual beauty. The game's uniqueness lies in transforming the player into a skilled, web spinning and crafty jumping spider. Players will be able to direct Jupingo's jumps and spin elastic silk threads to bounce the little hero onto out-of-reach areas. The objective of the game is to rescue Jupingo's babies from abducting aliens while at the same time deal with a horde of nasty earth bugs.
For more information on Jumping Jupingo please visit: http://www.jumpingjupingo.com
About GrinLock Limited
Headquartered in Kidderminster, Worcestershire, UK, GrinLock Limited is an independent game developer run by Philippe and Tersia Ingels.
The company was established in 2004. GrinLock has developed numerous games, characters and been involved in marketing campaigns for clients such as Turner Broadcast, Tropicana, TalkTalk, Ubisoft and Egmont Publishing. Jumping Jupingo is GrinLock's own IP and will be available for iPad, iPhone, Android. PC and Mac.
The expected release date for Jumping Jupingo has been moved to the end of July to coincide with the crowd funding campaign.
More information on GrinLock Limited can be found at http://www.grinlock.com
Contact:
Philippe Ingels
CEO
GrinLock Limited
Tel: +44[0]1562 636633
E-mail: philippe(at)grinlock(dot)com
Copyright (C) 2012 GrinLock Limited. All Rights Reserved.
Apple, the Apple logo, iPhone, iPod and iPad are registered trademarks of Apple Inc. in the U.S. and/or other countries.