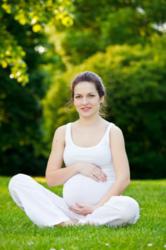 It's important for new parents to do their research and learn what these products are made of and how they could potentially impact their newborn child.
Cleveland, Ohio (PRWEB) July 01, 2012
Cherub's Blanket, a Shaker Heights, Ohio, business offering organic cotton baby blankets and natural baby items, is sharing tips on how to create an environmentally safe and green baby nursery.
"Most consumers may not realize many of the products for a nursery can be harmful to a baby's health, causing sensitivity problems, allergies, and untold future development issues. Fabrics made of plastic fibers coated in chemical dyes and even cotton grown with pesticides and fertilizers are in direct contact with a child. Toys made of plastics and paint often go directly into a baby's mouth," said Mary Farrell, Owner, Cherub's Blanket. "It's important for new parents to do their research and learn what these products are made of and how they could potentially impact their newborn child."
Farrell suggests focusing first on the items that come into contact with your newborn on a daily basis…

Blankets and Clothes – Cotton, the most popular textile in the clothing industry requires the heavy use of pesticides. These pesticides not only strip the soil of nutrients, but some of them have been labeled as cancer causing by the Environmental Protection Agency.
Cotton clothing labeled as "100 percent certified organic cotton", will be free of these pesticides. Also pay attention to how the fabric has been treated. Organic cotton that has been conventionally dyed or treated with flame retardants, petrochemicals and formaldehyde-based fabric finishes is no better. When choosing a dyed blanket or garment, the label should describe the dye process. "Low-impact" dyes may be better for the environment, but is it better for a baby? A better choice is naturally colored organic cotton items.
Bedding and Furniture – Babies sleep more than two-thirds of the day as a newborn. By choosing a mattress made of organic cotton or wool, new parents won't worry about their baby inhaling the fumes of flame retardants and chemical-leeching plastics found in conventional mattresses. The plastic smell from vinyl mattresses and changing pads is the off-gassing which may contribute to a wide range of health problems.
Cribs and furniture made from poor quality pressed wood can be a source of fumes that off-gas in a baby's nursery for many years. Choose natural wood furniture that is not treated with formaldehyde.
Diapers – Minimize the chemicals involved in diapering by choosing fragrance-free diaper creams with fewer ingredients and preservatives. Remember, just because the label says "organic" doesn't mean it has fewer chemicals or unnecessary oils and fragrances. Also important to consider are the diapers a baby is in contact with - healthy choices are available to accommodate every parent's lifestyle. Cloth diapers come in organic cotton, hemp, and wool. However, parents on the go may want to try a look at chlorine-free disposables or chlorine-free flushable diapers.
Toys – An important thing to remember about toys is most of them end up in a baby's mouth during that first year. Toys should be made of Polyvinyl Chloride (PVC) -free plastic, natural wood or organic fabric from the inside out - sanded maple hardwood rattles and organic cotton dolls are a good choice.
Baby Feeding Tools, Pacifiers, and Teething Toys - Most of these items are commonly made from plastic, however now come in non-toxic alternatives such as natural rubber, wood, organic cotton, and bamboo.
For a quick view of Cherub's Blanket products, go to http://youtu.be/70qslNyzzp4 to view a brief one minute video. To see Cherub's Blanket complete line of organic cotton baby blankets and organic baby items visit http://www.cherubsblanket.com.
To learn more about green products and all things green living, Farrell suggest visiting http://www.organicitsworthit.org and http://www.greenamerica.org/livinggreen.
Founded in 1996 and based in Shaker Heights, Ohio, Cherub's Blanket offers organic cotton baby blankets and natural baby item, all handcrafted in the USA. The cotton used in Cherub's Blanket products is certified by the Global Organic Textile Standard (GOTS). Cherub's Blanket believes in providing the best natural and healthy environment for which a baby may develop and thrive and supports the Cradle to Cradle philosophy: all materials should enrich and benefit the environment through their life cycle, as products are manufactured, used, and naturally return to the earth.