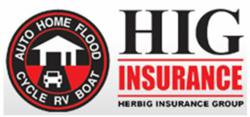 Drivers who use hand-held cell phone devices are 4 times more likely to get into a serious car crash.
Heathrow, Florida (PRWEB) July 02, 2012
Florida insurance agency, HIG Insurance Group, recognizes July as National Cell Phone Courtesy Month. Over the past few years, cell phone usage has taken a turn for the worst, mostly because of drivers putting others in danger by texting while driving. Like most Americans, HIG Insurance Group has taken notice of the increasing number of deaths due to texting and driving, as well as the increasing number of Florida car insurance claims.
According to the Official U.S. Government Website for Distracted Driving, drivers who use hand-held cell phone devices are 4 times more likely to get into a serious car crash. As for texting and driving: Text messaging creates a crash risk that is 23 times worse than those who are 100% focused on the road. In 2012, 3,092 people were killed in car accidents involving a distracted driver while another estimated 416,000 were merely injured in this type of accident.
In an effort to decrease these numbers, HIG Insurance Group is asking locals and the rest of America to improve their driving habits. In light of National Cell Phone Courtesy Month, the agency has some advice to share:

If you are expecting an important phone call, pull over to a safe place before answering your phone.
If you must text, text your friends before getting into a car and let them know that you will be driving. Let them know you will contact them once you have arrived at your destination.
Keep dialing to a minimum by programming the most important contacts into speed dial.
Use a hands-free or speaker phone accessory in your vehicle to make calls while keeping your hands on the wheel.
If you feel tempted to text while driving, place your phone in your bag, on the back seat or simply turn it off.
For emergencies, always pull over to a safe place to call or text.
Avoid making "emotional" phone calls while driving. Crying or yelling over the phone may land you in more trouble.
For businessmen and women, avoid checking your work and client e-mails while driving.
Keeping cell phones out of view and or set to silent while on the road may end up saving your life, or saving the hassle of filing a Florida car insurance claim. While HIG Insurance Group is ready to help clients through even the worst of car crashes, it is still best to avoid an accident in the first place.
About HIG Insurance Group:
HIG Insurance Group is a full service Florida insurance agency. For over 35 years, the agency has continued to help Florida residents by offering its risk management and insurance expertise. Besides writing personal line policies throughout the entire state of Florida, HIG Insurance Group can also help entrepreneurs develop industry-specific commercial insurance. Agents at HIG Insurance Group are ready to build long-lasting relationships with the Florida community.