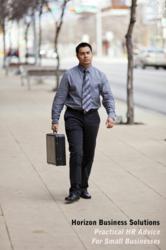 Columbus, OH (PRWEB) July 01, 2012
A Supreme Court ruling last week has cleared the way for the state of Arizona to enforce portions of its strict new laws cracking down on illegal immigrants.
Five other states -- Alabama, Georgia, South Carolina, Indiana and Utah -- have passed similar measures. And the Supreme Court's decision may lead to other challenges to these laws in the court system.
Kim Bolin of Horizon Business Solutions warns his clients to be aware of the immigration guidelines as they hire new employees. Bolin says "As a result of the increased scrutiny on immigration status of workers, it's more important than ever before for employers to be in compliance with immigration laws. Businesses will need to pay closer attention to these matters in the future as they deal with the already complex bureaucracy of the U.S. immigration system. The stakes are high, as enforcement efforts may lead to costly civil fines or criminal penalties."
Horizons Business Solutions HR Team provided these specific key points for employers to consider as they hire employees with international backgrounds:
Is the potential foreign-born employee an immigrant or a non-immigrant? Immigrant aliens can become lawful permanent residents through employment, a family relationship or as a member of a new commercial enterprise. Non-immigrants are persons who are admitted to the U.S. temporarily for a particular purpose. This may include education, a temporary job, business and travel. Once the time allowed for the visit is over, non-immigrants must leave the country and return home.
Is the employer prepared to pay the "prevailing wage," for a position, one of the requirements in a petition for a green card for a foreign worker? That's the average wage paid for a type of work in the area in which the work is located. The U.S. Department of Labor determines it.
Does the potential employee have a background in a field such as the arts, sciences or athletics which might qualify them for an "extraordinary ability" work visa?
Does the employee work in a business field that may qualify for a treaty-based trade and investment visa?
Is there something in the potential employee's background that might lead to deportation? This might include entry into the U.S. through fraudulent documents, conviction of certain crimes or security-related concerns. Non-immigrants illegally working or staying over their departure dates may also be subject to deportation.
Horizon Business Solutions can help employers with I-9 forms, verification of employee eligibility and other paperwork related to immigration issues with employees. Contact us today to find out how Horizon Business Solutions can meet these and other human resources needs for your business.