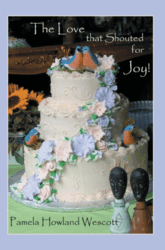 This joyful and celebratory moment is a great equalizer because, gay or straight, everyone understands the stress and rewards of planning a wedding.
Boston (PRWEB) July 02, 2012
Catching up to change requires shifting one's world view.
In her book, "The Love that Shouted for Joy!" (published by iUniverse) Pamela Wescott reflects on the immediate effects of the 2004 Massachusetts' Supreme Court ruling that legalized same-sex marriage. Wescott knew that the ruling would transform her life, but she soon realized that this also meant rising to new challenges.
"After accepting the status quo over the years, it was hard to just jump on the bandwagon," Wescott says. "But we jumped anyway--and we couldn't believe the rewards. Having a public marriage ceremony gave family, friends, neighbors and colleagues the chance to show their support.
"It was amazing to see others so excited for us. The surge of creative energy it stirred in me resulted in this book."
In her book, Wescott offers quirky vignettes that chronicle her life before and after the ruling. The stories, she says, illustrate the paradoxes inherent in social change as well as the ensuing chaos as she and her wife, Kathleen, planned the only gay wedding they had ever attended-- their own.
Ultimately, Wescott says, the book is more about similarities, not differences, between straight and gay couples.
"This joyful and celebratory moment is a great equalizer because, gay or straight, everyone understands the stress and rewards of planning a wedding," Wescott says. "The more these similarities can be discussed, the more we move toward mutual understanding and freeing our energies to solve larger problems that we all share."
For more information, visit http://www.amazon.com/The-Love-that-Shouted-Joy/dp/0595371736
"The Love that Shouted for Joy!"
By Pamela Howland Wescott
ISBN: 0-595-37173-6
Softcover, retail price: $10.95 Ι E-book price: $6.00
About the author
Pamela Howland Wescott received a Bachelor of Arts from Wellesley College and has a Master's in Public Policy from the University of California, Berkeley. Today, Pamela works for the Informed Medical Decisions Foundation, where she gathers insights from patients and providers about their experience of making shared medical treatment decisions. When she isn't working or writing, Pamela enjoys kayaking, biking and gardening. She lives in Boston, Mass. with her wife, Kathleen, and their corgi, Cali.
# # #
**FOR IMMEDIATE RELEASE**
EDITORS: For review copies or interview requests, contact:
Lauren Cascio
Phone: 317-602-7137
Email: lcascio(at)bohlsengroup(dot)com
(When requesting a review copy, please provide a street address.)