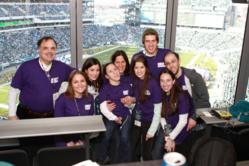 people will flock to the t-shirts as something that is almost a necessary or 'must have' souvenir of the event
Philadelphia, PA (PRWEB) July 01, 2012
T-shirt charity drives make inexpensive and effective fundraising strategies. Many charitable organizations sell custom t-shirts cheap to raise money and awareness for their cause. Using custom tees to raise money for charity is a fundraising strategy employed by many Rush Order Tees custom t-shirts customers. Screen printed shirts and logo t-shirts sales not only contribute to raising much needed funds but also raise the overall awareness of a group, organization or cause.
Even government agencies use personalized t-shirts for this purpose. Just last month, the National Institute of Health (NIH) and the National Heart Lung and Blood Institute wore customized t shirts in a flash mob dance on National Wear Red Day not to raise funds (though donations to the cause and volunteerism are always encouraged) but to raise awareness of heart, lung and blood disease.
Custom t-shirts are inexpensive, durable, fashionable, and provide people with the element of casual comfort they need when they are with friends and family, relaxing around the house, at the gym, or out to a movie, causal event such, sporting event or just shopping.
Matthew Price, Operations Manager for Rush Order Tees has observed that "People are also very likely to buy custom logo shirts as souvenirs. If a client is having a fundraiser at an event with a large turnout, people will flock to the t-shirts as something that is almost a necessary or 'must have' souvenir of the event. They serve as reminders of the day, particularly if the event is a fun event such as an annual carnival or festival.
"T-shirt charities are also particularly lucrative for school groups and sports teams." Continued Price. "Custom t-shirts are a great way for people to show solidarity and pride for a school or a team."
Ron Reed, Vice President of Marketing and eCommerce for Printfly Inc. and the Rush Order Tees brand noted "Consumers enjoy wearing shirts to their children's school or sporting events, or simply to show pride in their town or group. Academic staff enjoy showing pride in their school and of course any members of private groups take pride in their association, professional network, band or interests like a local book club."
"The benefits of selling custom printed tees for fundraising events are certainly far-reaching and long lasting."
Learn more. Contact Rush Order Tees at (800) 620-1233
--
About Rush Order Tees | a Printfly Company
Printfly and Rush Order Tees are US based international eCommerce based businesses. Originally built on repeat business and referrals from satisfied customers, Rush Order Tees has grown to be a major leader in the custom shirt printing industry supplying commercial, government, consumer, academic and private organizations throughout the United States and Canada.
Since it's founding in 2002, Rush Order Tees has expanded its product offering beyond custom printed shirts to include a wide variety of sports, academic, community-driven, commercial and business offerings including company polos, custom business shirts, custom team jerseys, custom printed hats, custom printed sweats, custom college shirts, school jerseys, custom totes, custom aprons, and more.
As it began to grow out of it's prior facilities, Rush Order Tees acquired a 15,000 SF facility in North East Philadelphia, PA which they equipped with over twenty of the highest quality screen printers, digital printers (DTG Direct to Garment printers), screen exposure units, screen printing heaters and much more. Now, in 2012, the business continues to grow to a point that now requires a new facility and offices.
Based in Philadelphia being a contributor to the local economy in and out of the city limits, the company is in negotiations to acquire a new facility staying based in the city of brotherly love with sipping locations and warehouses throughout the United States. They will continue serving the entire US (all 50 states) and Canada with their policy of standard free shipping through UPS to all 50 states under both Printfly and Rush Order Tees brands and sites.
As the company grew, it continued offering free nationwide shipping along with "no fee" policies and an industry-leading low price guarantee. Through the years, they've developed a reputation for excellent service, value and quality. Their customers have voiced their well earned allegiance and appreciation across many consumer-driven review sites earning Rush Order Tees and Printfly overwhelmingly positive reviews across the leading sites including Google, Superpages, Yellow Pages, and the Better Business Bureau where they hold a certified A+ Accredited Rating.
Contact Rush Order Tees at 1 (800) 620-1233 or visit their site to email customer service or Live Chat with a specialist. Hours of operations are 7:00 am to 11:00 pm EDT, Monday through Friday and 9:00 am to 7:00 pm EDT Saturday and Sunday.