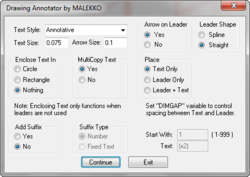 Thanks to Xzibitware, we have enough Time to handle the Design and Detailing work for a large number of clients. Alex Shtylman, President, ALVIRO Consulting, LLC
Atlanta,GA (PRWEB) July 11, 2012
MALEKKO Software Systems announced today that it has finalized the upgrade and release of its AutoCAD Add-on, Xzibitware, to work with 64 Bit AutoCAD. This new version, V16.0, replaces the Borland Database Engine and Paradox Data Tables with the Sybase Advantage Database Server. Updated installations can expect to retain all information previously kept in Paradox Data Tables. This makes for quick and painless system updates. This release is for workstations using AutoCAD 2010, 2011, 2012, or AutoCAD's newest version, 2013. 32 Bit workstations are also still supported.
Xzibitware's Drawing Annotator feature, already a major time-saver for labeling exhibit parts in drawings using text Callout Tags, has been upgraded to provide Tag suffixes.
This is important because it helps an exhibit designer or detailer distinctly identify parts that may have the same physical size and material: Panels, for example. Exhibit Materials Lists identify what parts are shown in a drawing but not where they appear.
That's where text Callout Tags come in. A Callout Tag, placed on or next to a part, links that part to a line in a Materials List that describes the part and its quantity. Parts that are physically identical are grouped together and share the same Callout Tag.
To help make sure that specific graphics are applied to a Panel that's virtually identical to others, Xzibitware can now add an auto-incremented numeric suffix to each Callout Tag as it is placed in a drawing. This makes each tag unique. The Shop will later apply a label to each Panel and its graphic that matches the Callout Tag+Suffix seen in the exhibit assembly drawing. This helps Shop and I&D personnel avoid crating and exhibit installation errors. Text suffixes to Callout Tags are also supported by this latest product update.
Since 1995, MALEKKO Software Systems has been working with exhibit designers and detailers to identify their needs when creating exhibit structural detail drawings and exhibit materials lists. Their guidance has resulted in the Xzibitware software product created specifically for those working to design and/or detail Exhibits using AutoCAD. Current product users range from small design studios and independent designers/detailers to major exhibit design companies.