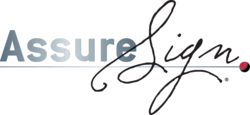 Our DocumentNOW® and DocumentTRAK™ API tools have been heralded by existing partners as the most comprehensive, flexible and easy to with API Toolkit in the elctronic signature market.
Orlando, FL (PRWEB) July 02, 2012
AssureSign LLC, a leading provider of electronic signature software, today announced it will be an exhibitor at the Microsoft Worldwide Partner Conference (WPC) in Toronto, which will be held July 8 through 12 at the Metro Toronto Convention Centre. AssureSign will be exhibiting their latest electronic signature product capabilities in booth #329 in the Solution Innovation Center (Expo), highlighting its industry leading solutions.
AssureSign leads the electronic signature market with easy to deploy tools that can seamlessly integrate electronic signature applications with existing business tools with minimal effort. AssureSign is already pre-integrated with Microsoft Dynamics® CRM, Microsoft SharePoint and several other Microsoft-based applications from other Microsoft partners. Additionally, AssureSign recently ported its flagship application, AssureSign Electronic Signature Software, to Windows Azure.
AssureSign's participation in this year's WPC event marks the third consecutive year that the company will exhibit at the event. The AssureSign electronic signature solution has experienced rapid adoption among the Microsoft community, as the product is ideally suited for integration with Microsoft technologies, as well as easily embedded into other ISV applications. Visitors to the AssureSign booth at WPC will have the opportunity to explore enhanced signing capabilities via mobile devices, learn about AssureSign's enhanced partner program, and be among the first to experience AssureSign on the Windows Azure platform.
"Our DocumentNOW® and DocumentTRAK™ API tools, which allow our partners and customers to tightly integrate with existing environments, including Microsoft applications, have been heralded by existing partners as the most comprehensive, flexible and easy to work with API Toolkit in the electronic signature market," says David Brinkman, AssureSign's president and chief executive officer. "WPC is a great opportunity for AssureSign to demonstrate to the Microsoft partner community the breadth and depth of the AssureSign solution."
The Microsoft Worldwide Partner Conference is an annual gathering for the Microsoft partner community to learn about Microsoft's roadmap for the upcoming year, network and build connections, share best practices, experience the latest product innovations, and learn new skills and techniques. To learn more about AssureSign Electronic Signature Software and AssureSign's Partner Program, stop by the AssureSign Booth (#329) in the WPC Solution Innovation Center, or visit http://www.assuresign.com.
About AssureSign LLC
AssureSign LLC is a Silver Depth Managed Microsoft Partner and a leading provider of web-based and on-premise electronic signature software, enabling users to obtain both written and verbal authorizations. AssureSign provides the most integrated and feature-rich APIs available and features a unique, patent-pending technology allowing for the execution of any document with forensically identifiable, biometric signatures or typed 'certified' signatures. AssureSign is a highly secure and flexible "cloud computing" application, and the only e-signature provider with a four year track record of providing customers with 99.99% uptime in a multi-site data center with SSAE 16 (formerly SAS 70) Type II certification extending to all aspects of the enterprise. Using the standards-based DocumentNOW® and DocumentTRAK™ integration tools, AssureSign can easily integrate with existing business processes within any enterprise, regardless of size. AssureSign's experience extends over 11 years and comprises more than 150 million unique signature events. AssureSign customers consistently experience dramatic cost savings, as well as significant reduction in the time to execute documents. For more information visit http://www.assuresign.com or follow AssureSign on Twitter at twitter.com/assuresign.
###