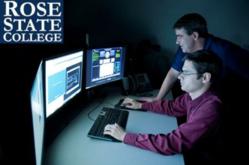 Rose State College in Oklahoma is the only two-year cyber security program in the U.S. offering all six federal certifications.
Midwest City, OK (PRWEB) July 03, 2012
Spaces for a full-ride scholarship, including tuition, fees, books and a stipend are now available for the Rose State College Cyber Security program, according to its director. Rose State College in Oklahoma is the only two-year college in the United States offering all six federal certifications for cyber security and has recently been designated as a center of excellence in the area of cyber security by the National Security Agency (NSA).
A recent grant from the NSF expanded the number of fully paid scholarship positions, part of a nationwide effort to expand cyber-security graduates, said Professor Ken Dewey, program director. Dewey cited increasing demand for cyber graduates in light of recent news about cyber attacks, viruses and counter-espionage efforts by businesses and the government. Graduates of the Rose State College Cyber Security program often go on to work for the FBI, the CIA, and the National Security Agency or for important security-related businesses.
"This is an important program for the country and a great opportunity for a lucrative career," Dewey said. "The program is part of the National STEM (Science, Technology, Engineering and Math) Program."
The college is now accepting applicants for the 2012-2013 year. The grant pays for tuition, fees, books, and a small stipend for additional expenses. Applicants will be required to fill out a Free Application for Federal Student Aid (FAFSA). Additional requirements include:
-Student must be ready for College Algebra
-Have a 2.5 high school or college GPA (3.0 preferred)
-Declare Cyber Security as major at Rose State
-Enroll full time with coordination of Director
-Pass a law enforcement background check
Openings are limited, so applicants are encouraged to act now. For more information, go to http://www.rose.edu/cyber-security/ on the web or contact Professor Ken Dewey at kdewey(at)rose(dot)edu or 405-733-7977.
About Rose State College:
As a public, open admissions, associate degree granting institution, Rose State College in Midwest City, Oklahoma provides higher education preparation for lifelong learning through programs and services designed to serve a diverse community. Whether you're a recent high school graduate or a busy adult seeking your degree, Rose State is confident that you will succeed.