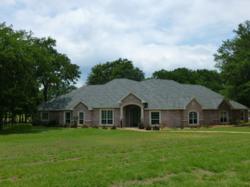 We believe that the multi-property event is one of the best ways to bring properties to the public
Kansas City, MO (PRWEB) July 02, 2012
Buyers have the opportunity of a lifetime to choose from a variety of North Texas properties at auction prices. United Real Estate, the fastest growing real estate company in Northern Texas, in conjunction with United Country – Coleman & Patterson, are conducting a multi-property auction event on Friday, July 27.
"We believe that the multi-property event is one of the best ways to bring properties to the public," said David Coleman, principal, broker and auctioneer with United Country – Coleman & Patterson. "This format allows qualified buyers the opportunity to see a variety of available homes and income properties and determine their current fair market values through the bidding process."
This event will offer a large variety of properties for sale, including homes, building lots, commercial properties, recreational real estate and more. Several will be offered with no reserve. These properties range from half an acre to over 360 acres in size.
The July 27 auction will be held at 10 a.m. in the Hilton Dallas Lincoln Centre at 5410 LBJ Freeway in Dallas. Registration begins at 9 a.m. and inspections of the properties will be made available by appointment.
Property details, photos and terms and conditions can be found at http://www.TexasPropertyAuction.com. United Real Estate can be reached at 888-961-6161 ext. 73, and United Country – Coleman & Patterson can be contacted at 979-703-1863.
A Closer Look at United Real Estate
United Real Estate is part of the largest national network of real estate brokerages focused on lifestyle real estate. The company has been an innovator in real estate marketing since 1925, perfecting one-of-a-kind marketing techniques supported by an extensive array of proprietary technology to better serve agents, sellers and buyers. This progressive model supports nearly 550 offices and 4,000 agents across the United States, Costa Rica, Panama and Mexico. The United group of companies was recognized by the Wall Street Journal, Entrepreneur Magazine and AllBusiness.com as a top-performing real estate organization. United's team of marketing professionals have earned numerous awards for marketing excellence, including honors for creative design, public relations and web-based marketing.