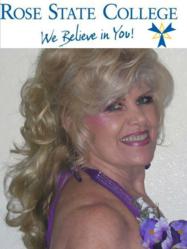 "...the pageant is not only family fun for all ages, but is also a time for senior women to shine."
Midwest City, OK (PRWEB) July 06, 2012
Tae Kwon Do, banjo picking, song and dance, and sexy seniors are on tap when Rose State College hosts the Ms. Senior Oklahoma America Pageant July 14 at the Performing Arts Theatre in Midwest City, from 2-5 p.m. As with similar contests, the winner of the pageant will go on to represent the state of Oklahoma at the National Finals, October 7-12, 2012 at Harrah's Resort Hotel and Casino in Atlantic City, NJ.
The pageant seeks to draw attention to women age 60 and over, to emphasize not only physical beauty but also "inner beauty," talent and elegance. Contestants will face a panel of judges who will score them in categories of Evening Gown, Talent, Philosophy of Life, and finally, by an interview with all the judges.
Vickey Rose, Ms. Senior Oklahoma 2011, said the pageant is not only family fun for all ages, but is also a time for senior women to shine. A Wewoka native, Rose is an accomplished singer/songwriter for more than 40 years and plays standard and bass guitar, keyboard, and alto saxophone. She said contestants have exuberance as well as a lifetime of experience. We have the knowledge, and we have been through the fire," said Rose. "We need to pass that on, especially to younger people."
Lanese Craft, 2010 Ms. Senior Oklahoma and co-director of the pageant, said contestants sing, dance and display other talents that might surprise the audience. "We have a lady who plays bluegrass banjo, a 90-year-old who's going to dance to "Shake Your Groove Thang," someone who performs a comedic scene based on Gone With the Wind, one who does Tae Kwon Do, and another who will perform from her latest CD…it's going to be a fabulous afternoon of entertainment. And it's going to be difficult for the judges to choose the winner," Craft said.
The "Tinker Flying High" big band from Tinker Air Force Base will perform prior to the pageant. Sponsors include Home Instead, Rose State College, Brookdale Assisted Living, and Midwest Regional Hospital, with transportation display provided by Bob Moore Cadillac, floral arrangements by Howard Brothers Florists, and a Red Carpet for the Review by Oklahoma Tile and Carpet.
Admission is free, with plenty of free parking available. The Performing Arts Theatre is located on the Rose State College campus in Midwest City, just off Interstate 40 and Hudiburg Drive. Visit Rose State's news page to learn more about their involvement in the community: http://www.rose.edu/rose-state-news.
About Rose State College:
As a public, open admissions, associate degree granting institution, Rose State College in Midwest City, Oklahoma provides higher education preparation for lifelong learning through programs and services designed to serve a diverse community. Whether you're a recent high school graduate or a busy adult seeking your degree, we're confident you can succeed at Rose State College in Oklahoma.