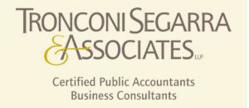 Mr. Levey brings a wealth of expertise and insight to Tronconi Segarra & Associates.
Williamsville, NY (PRWEB) July 13, 2012
Longtime leaders among accountants in New York, Tronconi Segarra & Associates LLP is pleased to announce the addition of Gerad D. Levy to the Firm's unrivaled State and Local Tax (SALT) team. With nearly 100 years of combined experience, the Firm's SALT team will now have additional expertise in assisting companies with a wide range of state and local tax issues and in redefining the cost-saving role a CPA in NY can play for businesses of all types seeking to better understand and manage their sales and use tax obligation.
Mr. Levey brings to Tronconi Segarra & Associates a wealth of expertise and insight to the Firm, having worked for eight years for the New York State Department of Taxation & Finance as a tax auditor. This experience has provided him with unique and valuable expertise that he can now leverage when providing sales and use tax consulting services to the Firm's private sector clients.
"We're thrilled to be adding Gerad to our SALT team," said David Werth, state and local tax partner at Tronconi Segarra & Associates. "Simply put, the individual states have created highly complex, industry-specific sales and use tax laws that can vary dramatically from one state to another. We see many companies who are overwhelmed by this complexity and find it difficult to manage their compliance obligations, not to mention understand the correct amount of sales and use tax that they should be paying. Such companies run a high risk of underpaying or overpaying sales and use taxes, and/or becoming a sales tax audit target for one or more states. Gerard brings a unique blend of skill and experience to our Firm that will allow us to bring an added dimension of expertise and service to the clients we serve."
Federal tax compliance tends to garner the most attention among businesses. But, in reality, the largest business tax burdens tend to occur at the state and local level. For most U.S. businesses, state and local tax obligations often surpass their federal income tax obligations. For example, in 2010, businesses across America paid roughly $619 billion in state and local taxes. This included:

Property taxes on company properties, which accounted for roughly 40% of all business taxes paid in 2010.
General sales taxes on business inputs, which accounted for roughly 20%.
Business and corporate licenses and license taxes, which accounted for approximately 13%.
Beyond the risk of overpaying, such complicated business tax obligations also creates a risk of underpayment– something that can result in devastating penalties and fees. Tronconi Segarra & Associates has the expertise to assist businesses throughout the U.S., as well as businesses in Canada and other foreign countries that conduct business in the U.S., to navigate the various state tax laws so that they pay only what they are obligated to pay--no more, no less.
About Tronconi Segarra & Associates:
The Williamsville, New York-based firm has assisted a wide range of businesses with professional financial services, from billion-dollar public companies to small, single-location companies across a diverse array of industries. The Firm also regularly provides consulting services to attorneys and other CPA firms who do not have in-house SALT expertise. The Firm maintains satellite offices in Clarence, New York and Niagara Falls, New York. Learn more about Tronconi Segarra & Associates at http://www.tsacpa.com.