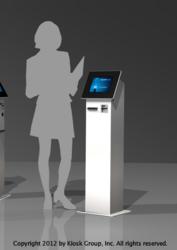 Any company can license custom builds of our Kiosk Pro Enterprise.
Frederick, MD (PRWEB) July 10, 2012
Today Kiosk Group, Inc., makers of the popular Kiosk Pro series of apps for iPads, introduced Kiosk Pro Enterprise, a customizable software platform for professional iPad Kiosk deployers. The Kiosk Pro Enterprise platform offers many unique features not found in the iTunes App Store versions, including support for typical kiosk hardware.
Typical visual enhancements include:

Custom branding of Kiosk Pro with your app name, home screen icon and splash screen.
Variable-sized, customized navigation bar.
Typical functional enhancements include:
Allowing users to access your custom print button and bypass the standard iOS print dialog.
JavaScript control of Bluetooth bar code readers and the on-screen keyboard so that both can be accessed.
Support for IDTech's iMag Pro and Unimag II magnetic stripe readers. Credit card data is returned through a custom JavaScript function.
Camera availability for pictures and video while the internet is connected.
Support for true sleep mode at scheduled times to reduce power usage.
Support for Star-Micronics thermal printers with both text and graphics.
iPad kiosk theft detection.
Kiosk Group president Mike James explained "Any company can license custom builds of our Kiosk Pro Enterprise. Apple has two simple requirements that our customers have a DUNS number and also register as Enterprise Developers. Apple also requires that the Enterprise apps are only used on company-owned iPads."
Pricing for Kiosk Pro Enterprise development varies depending on the customer's requirements.
Kiosk Pro is a series of kiosk-mode apps that display your HTML and JavaScript code, and add professional kiosk functions such as returning to the Home Screen after a user has left the kiosk, limiting user navigation to approved domains and disabling zoom and pinch mode, if desired. Using Kiosk Pro content can run from the Internet or can run from files stored on the iPad. A full list of features can be found at http://www.kioskproapp.com/features.html
Kiosk Group is well known as the industry leader in iPad and tablet kiosk innovation, both in software and kiosk enclosures. With a 32-year development history, Kiosk Group, Inc. is one of the premiere kiosk providers in the world, serving both US and international clientele. Clients range from universities and government agencies to Fortune 100 companies, such as Boeing, Coca-Cola and Tysons Foods.
For more information on our products or services please visit http://www.kioskproapp.com and http://www.ipadkiosks.com or contact us at 1-888-569-5467 or 1-240-566-5415.