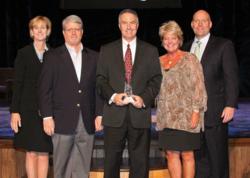 We are honored to continue our commitment of giving customers the products and ideas they need to move business forward.
Irving, TX (PRWEB) July 02, 2012
Mission® Foodservice is honored to have been chosen as a winner of the seventh annual Pinnacle Award, presented by the Premier healthcare alliance. As one of 27 suppliers to receive the Pinnacle Award, Mission Foodservice was recognized for its commitment to performance.
The Pinnacle Award rewards Premier's contracted suppliers for their outstanding management of Premier agreements and their drive toward the mutual goal of providing clinical and financial value to the alliance members of Premier. In selecting recipients, performance data is collected and scored over four successive calendar quarters.
Vice President of Foodservice for Mission Foods, Tom Daley, accepted the award at Premier's 2012 Annual Breakthroughs Conference and Exhibition in Nashville, Tenn. The award ceremony was held June 7 at the Gaylord Opryland Hotel and Convention Center.
"I am proud to accept this award on behalf of our organization," said Daley. "We are honored to continue our commitment of giving customers the products and ideas they need to move business forward."
Premier Healthcare also awarded Mission Foodservice's Southeast National Account Manager Carrie Simmons with the Passion of Excellence Finalist Award, given to only select group of Premier suppliers
for excellent service.
Premier is a hospital-owned performance improvement alliance of 2,600 hospitals and 84,000 other care sites. It contracts with more than 800 suppliers, including Mission Foodservice.
"As providers continue efforts to operate in a high quality, cost-effective environment, Mission Foodservice has truly been supporting Premier alliance members," said Premier Chief Operating Officer Mike Alkire. "We're proud to recognize them as a top performing organization."
About Mission Foods
Mission Foods, headquartered in Irving (Dallas area), Texas and Gruma S.A.B. de C.V., a Mexican Corporation, was founded in 1949, and is one of the largest tortilla manufacturers in the United States. Gruma S.A. de C.V. is the parent company of Mission Foods (Gruma Corporation) and is a leading Mexican producer of corn masa flour and tortilla products. It has operations in Mexico, the United States, Central and South America, Europe and Asia. For more information, please visit missionfoodservice.com.
About the Premier healthcare alliance, Malcolm Baldrige National Quality Award recipient
Premier is a performance improvement alliance of more than 2,600 U.S. hospitals and 84,000-plus other healthcare sites using the power of collaboration to lead the transformation to high quality, cost-effective care. Owned by hospitals, health systems and other providers, Premier maintains the nation's most comprehensive repository of clinical, financial and outcomes information and operates a leading healthcare purchasing network. A world leader in helping deliver measurable improvements in care, Premier has worked with the Centers for Medicare & Medicaid Services and the United Kingdom's National Health Service North West to improve hospital performance. Headquartered in Charlotte, N.C., Premier also has an office in Washington. premierinc.com. Stay connected with Premier on Facebook, Twitter and YouTube.