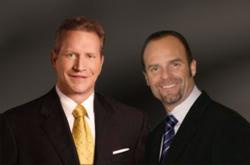 (PRWEB) July 19, 2012
In December 2011, Cooper Surgical announced the winners of the 2011 Spotlight Award for surgical expertise and their contributions to Gynecologic surgical education. CooperSurgical, which is based out of Connecticut, is a medical device company dedicated to providing procedure solutions that improve the quality of women's health care. The CooperSurgical Spotlight Award is a program open to all surgeons that specialize in Gynecologic surgery that wish to share their surgical techniques to evolve surgical education. This year, CooperSurgical gave out 3 Spotlight Awards worldwide and International Urogynecology Associates, Dr. Robert D. Moore and Dr. John R. Miklos were awarded 2 of the 3 awards for their work with the RUMI® uterine manipulation system, a CooperSurgical product, during a sacrocolpopexy procedure.
Dr. Moore and Dr. Miklos are internationally renowned surgeons that specialize in Laparoscopic Vaginal and Pelvic reconstruction. They have performed over 1200 Sacralcolpopexy procedures and have published the largest series in the world based on 402 patients (click here to read study). Dr. Moore and Dr. Miklos are invited throughout the world to teach, operate, lecture and share their knowledge and expertise. They are considered pioneers in women's pelvic health and are dedicated to educating surgeons and patients by continuing to research, write, film and lecture globally. This year alone they will travel to Poland, Colombia (SA), Argentina, Italy and France to lecture/operate and present research.
This is Dr. Moore and Dr. Miklos' second CooperSurgical Spotlight Award. In 2009, they were 2 of the 4 recipients to receive recognition for their work with the MiniArc Mini Sling and vaginal repair of prolapse with the Anterior Elevate procedure.
The announcement and the award winning video of this procedure can be viewed on CooperSurgical's Website.