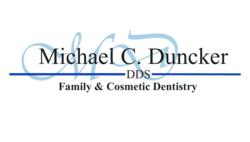 Downey, CA (PRWEB) July 01, 2012
Dr. Michael C. Duncker made the surgical option for replacing missing teeth available to his patients in Downey, CA. Dental implants are created from titanium metal, which is attached surgically into the jaw bone. This option provides the implant wearers with a replacement tooth, or set of teeth, that may last for the rest of their lives. Those benefitting from implants will not need to worry about bone loss, implant deterioration or the embarrassing side effects common with other replacement options. Throughout the last twenty years, titanium implants have shown to be a successful and satisfactory replacement option.
With close to three-fourths of the retirement-aged population finding themselves in need of some form of tooth replacement, the need for quality tooth replacement choices is apparent. Yet traditional dentures and other tooth replacement options often leave their wearers with unhappy side effects. Fortunately, technology has met this need with dental implants. These surgical replacements offer patients the possibility of a tooth replacement without the inconveniences that can be presented by other false teeth options.
Denture patients may be faced with problems such as the tooth replacement apparatus beginning to wear out with time and use. Loose tooth replacement fixtures may create clicking sounds as their wearers use them. They might slip, causing embarrassment, or begin to show deterioration. Sometimes bridge wearers will find that the teeth nearby are beginning to loosen or be otherwise affected adversely by the replacement teeth. Unfortunately, some people begin to find that they experience damaging bone loss. While these temporary and replaceable fixes are still right for some situations, many other tooth replacement wearers are happy to experience the benefits of dental implants.
Dr. Michael C. Duncker is a general practice offering patients personalized dental care and implant dentistry for Downey, California for over 30 years. Dr. Duncker practices cosmetic dentistry, laser surgery and general dentistry. He is also certified in selective orthodontics. He is a member of the American Dental Association, California Dental Association, the Los Angeles Dental Society, and the Downey Dental Academy, where he has been serving as treasurer for the past 10 years. Dr. Duncker is part of one percent of dental professionals providing the most recent FDA cleared laser procedure for gum disease and periodontal treatment. Dr. Duncker is most concerned with educating patients on good oral care habits. To learn more about Dr. Duncker and his dental services visit their website at http://www.downeylanap.com or call (562) 287-5244.