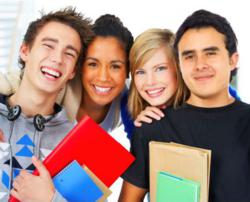 College students spend over 200 billion a year. That's a huge market and before spending one dollar marketing to the illusive group, it's critical to know what makes them tick and how to...reach this growing, powerful and profitable demographic.
Austin, TX (PRWEB) July 06, 2012
Powerful marketing tips to deliver students to your business
 
College students spend over 200 billion a year. That's a huge market, and before spending one dollar marketing to the illusive group, it's critical to know what makes them tick and how to push their buttons and infiltrate their inner circle. Here's some insight into how to begin reinventing a brand in order to reach this growing, powerful and profitable demographic.
 
1. Authentic
Be Real. Students know "real" when they see it. They won't waste time on people or companies that waffle, stall or are indirect. Clear, simple, short and truthful advertising will appeal to this generation.
Answer these four questions to sound and "be real":
1. What are you trying to sell me?
2. How much will it cost?
3. What's in it for me?
4. Why should I believe you?
 
2. Simple and Cool
To appeal to college students, an ad needs to follow this formula: Clean + Simple = Cool.
 
Here are 6 tips to keep an ad design as simple, cool and effective as possible.
 
1. Students have a "You" orientation. Simply using the word "You" in the headline and copy will increase the response.
2. One big picture is better than a lot of smaller ones.
3. Photos must match the message. If there is no connection, students won't get it, and they won't read the copy.
4. Always use captions with the photos. Students will read captions before text copy.
5. Students won't read past the headline. Put the benefits up front and keep them coming. This old school rule by David Ogilvy still applies: "If your headline doesn't promise a benefit, you are wasting 80% of your money."
6. Get to the point quickly! A student's first question is always, "What's in it for me?" Fire the biggest gun first and fast.
 
3. Quick
There's a two-second window to grab a student's attention with an ad. That is an incredibly short time to hook them with a sales pitch.
 
These 3 techniques will help make make an ad a "two-second hooker":
 
-The Word Hook: This is a short, repeatable phrase or slogan that is used to describe a business. A word hook is used consistently from ad to ad.
 
Here are some examples of the best in history:
 
Nike: Just do it.
Apple: Think Different
Budweiser: The King of Beers
Visa: It's everywhere you want to be.
McDonald's: I'm lovin' it.
 
-The Character Hook: A hero is used to identify a brand/business.
Here are some memorable advertising characters:
AFLAC: Duck
Geico: Gecko
McDonald's: Ronald McDonald
Progressive Auto Insurance: Flo
Energizer Batteries: Energizer Bunny
 
-Repeatable Hook: A repeatable theme will make students feel like they have the inside track. With an ad campaign, not just an individual ad, students quickly become familiar with the business and feel connected to the brand.
Consistency with the following items will help students know, like, and trust a business faster:
 
Theme
Layout
Design
Color
 
4. Social
Join their networks:
Students will not come looking for a business. To attract them, one has to go where they hang out. Using these four social networking platforms will help infiltrate their inner circle:
 
1. http://www.Facebook.com: Set up a fan page, landing page, and custom url.
2. http://www.Twitter.com: Set up a profile and custom backdrop.
3. http://www.foursquare.com: Claim a business, reward customers.
4. http://www.youtube.com: Set up a channel and share expertise.
 
5. Call To Action
 
A Call To Action is used to tell students what to do next. The goal is to create a spark to get them motivated and carry out an objective. A good call to action accomplishes two important things in the ad:
 

It gives students direction and inspires them to take the next step.
It provides an opportunity to measure your ads success.
 
Here are 14 Calls To Action that create a sense of urgency, or provide something extra if students act by a certain time:
1. Save Now.
2. Get a Free...
3. Money Back Guarantee, No Questions Asked.
4. Get It Now!
5. Free Shipping.
6. No Commitment.
7. Come in For a Free Consultation.
8. Take Our Quiz.
9. Schedule an Appointment Now and receive a Free…
10. Order Now and Receive a Free…
11. No Credit Card (Payment, Money) Required.
12. No Experience Necessary.
13. Try Our Free…
14. Call Today
6. Sustainable
Be socially responsible. College students are becoming more and more incredibly conscious about social causes, including the environment, human rights, animal welfare, and world hunger. They want to know that a company is aligned with a cause that creates an emotional connection with them.
 
Check out these national companies who are giving back:
1. Patagonia: Patagonia co-founded 1% For the Planet, an alliance of businesses pledging to commit at least 1 percent of their total sales to environmental causes.
2.The Body Shop: The Body Shop has its own foundation dedicated to supporting human and civil rights. Currently, 100 percent of the profits from the sale of their Soft Hands, Kind Heart Hand Cream are donated to the ECPAT foundation to prevent sex trafficking of children. To date, the Body Shop has raised $2 million dollars for this cause.
3.Green Mountain Coffee: Green Mountain Coffee Roasters is dedicated to responsible energy use, reduction of solid waste, ecological packaging initiatives, and eliminating poverty and hunger in the communities that supply Green Mountain with beans. As part of its campaign, their fully compostable ecotainer coffee cup (it's made from corn!) prevented over one million pounds of harmful petrochemicals from entering our landfills and seeping in to the earth.
4. Stonyfied Farms: As part of Stonyfield Farms' Profits for the Planet grant program, the company gives 10% of its annual profits toward efforts that help to protect and restore the earth.
5.Walt Disney Company: Disney's initiatives include: running Disneyland trains on biodiesel made with cooking oil from the resort's hotels, establishing a worldwide conservation fund, and instituting a "green standard" for all employees and cast members.
7. Experiential
College students love to try before they buy. Provide them with exclusive information, pictures, and videos. Give them sneak peeks at new products, and hook them up with free stuff they can talk about and share with their friends, and they will become enthusiastic customers.
Here are some promotional ideas to get students excited about trying a product:
Contests, and/or sweepstakes.
Free premiums.
Free samples.
Discount coupons.
Loss-leader premiums.
Bundled products or services.
Rebates.
Credit terms and easy payments.
30 day no questions asked return policy.
Promise to beat any advertised price in the market.
Guarantee quality, freshness, turn-around time.
 
 
8. Mobile
Students never leave home without their cell phones. According to Ad Age, "One quarter of Facebook's 800 million users access the site through mobile devices; this set is twice as active than non-mobile users." As geo-gaming applications like Foursquare and Gowalla take off, expect to see more opportunities to advertise to students on the go.
 
5 ways to make money with Foursquare:
1. Identify customers
2. Harness new fans
3. Engage followers
4. Reward customers
5. Incentivize the best customers
Study Breaks College Media provides a one-stop solution for small businesses, providing them with big marketing strategies and delivering college students.
Study Breaks magazine is an award-winning line of monthly entertainment magazines for college students with a mission can best be explained through its slogan: We are college life. Published by Shweiki Media Printing Company, it is distributed in five Texas cities (Austin, Houston, San Antonio, San Marcos and Lubbock) and three southeast cities (Athens, GA; Auburn, AL; Columbia, SC). (Studybreaks.com)