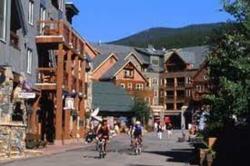 Keystone, CO (PRWEB) July 06, 2012
SummitCove Vacation Lodging, located in Keystone, Colorado, has added four additional properties to its expanding rental program for July 2012. The new properties are currently accepting year-round reservations.
Jack Pine 8022 is a spacious three bedroom located on the top floor of the Jack Pine building in Keystone's River Run Village. With forest views, vaulted ceilings, picture windows and a gas fireplace, this property will offer a relaxing atmosphere. Guests can also take advantage of the stone fire pit just outside the condo.
Snake River 6 is a four bedroom townhouse with great views and a private deck. Along with vaulted ceilings and large picture windows, this Mountain House Village property includes access to a 2 car garage. With a variety in bedding set-up, this is an idea property for a large family or multiple families visiting Keystone Resort together
Soda Springs 1922 is an updated one bedroom property located in the West Keystone neighborhood just under a mile from the gondola. With free shuttle access to the resort, this condo has a quiet location with a short travel time to enjoy on-mountain activities.
Settler's Creek 6553 is a 2 bedroom property located in East Keystone at one of the most popular condo buildings in all of Keystone Resort. Guests will enjoy beautiful forested views, a private grill on a large deck, and clubhouse access in this recently remodeled property.
In addition to new properties, three popular SummitCove rental properties will be remodeled and upgraded during the summer season. Updates will be performed on Liftside 14B, Cinnamon Ridge 1 #121, and the North Fork 577 private home. The properties will become available for rental near the end of Summer 2012.
About SummitCove Vacation Lodging
SummitCove offers nearly 300 vacation rental properties in Keystone, Colorado. Visitors to Summit County can choose from a variety of price ranges in beautiful properties from studios to private homes. Most properties offer amenities that include pool and/or hot tub access, fully equipped kitchens, balconies, and fireplaces. Guests have access to the River Run Village gondola and Keystone summer events and activities, as well as area restaurants and shops. Keystone is also within a short driving distance of resorts such as Arapahoe Basin, Breckenridge, Copper Mountain and Vail as well as the Towns of Frisco and Dillon, Colorado.