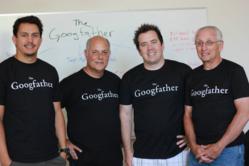 "We understand that the internet has brought marketing almost completely online. There are very few arenas left where traditional methods still work…and exhibiting a tradeshow is one of them." - Allen Horwitz, SalesInk
Los Angeles, CA (PRWEB) July 03, 2012
Keyword Search Pros, a young internet marketing firm from Southern California recently made their first trip out to IRCE (Internet Retailer Conference & Exhibition hosted by Vertical Web Media), which took place in Chicago this month. Doing most of their sales over the internet and on the phone, the group from KSP, mostly in their early 30s, needed some help from a few experts that were more versed in the area of the convention floor sales.
That is where SalesInk came into help. SalesInk, ran by Allen Horwitz and Bob Fenster, respectively in their 60s and 70s, have collectively been doing tradeshows for decades. With a more traditional approach to business creation, their company focuses more on training and organizational techniques that can help businesses flourish in these environments. Many of these techniques are considered of an "older-style." However, they have a particular skill set that the team at KSP saw value in. Realizing an opportunity to learn the "old school" way, they decided to reach out to them and form a partnership for the IRCE.
"We had never done exhibited at a tradeshow before. We knew it worked for other companies and at first, it seemed a bit archaic to stand around waiting for people to walk by just so we could heckle them into a conversation. But then it started working and it was actually fun." Peter Dulay, President of Keyword Search Pros.
SalesInk was designed to help companies big and small get their sales strategies down and provide the tools to help keep them growing over time. As much as the way business has changed in 30 years, some things are still the same.
"We understand that the internet has brought marketing almost completely online. There are very few arenas left where traditional methods still work…and exhibiting a tradeshow is one of them." said Horwitz.
At IRCE, Chicago saw more attendees this year than ever before. Other marketing firms knew this and so the competition was fierce, but Keyword Search Pros and SalesInk were still able to make an impact and use the strategies of both firms to their advantage.
KSP used some new school in viral marketing to draw in traffic with their dynamic short film entitled, "The Googfather." In the film, a business owner who has been struggling is brought face to face with Mr. Google. A dark hero names The Keyword Search Pro comes in to save the business from a most certain demise.
Though dramatized to be like a Dark Knight meets Godfather spoof centered around the area of pay per click, the film was a big hit, and with the combined determination of Peter Dulay and VP, Aaron Putman, along with the guys from SalesInk, they were able to capture the attention of the hordes of convention-goers drawn in by the impressive marketing technique.
"It was really exciting," Peter Dulay commented. "We knew that people were going to like the movie, but we had no idea how people were going to react to it. Knowing that we could make something that would be able to educate advertisers and entertain them at the same time, we are really pleased with how it all turned out, and we wouldn't have had the platform to do so without the help of SalesInk."
Though the four-day conference has now come to a close, Keyword Search Pros and SalesInk have redefined the phrase, "teaching an old dog new tricks." Sure these older guys picked up some knowledge on how to digitally market a company effectively. But the true takeaway is that "teaching new dogs old tricks" can get the new dogs excelling beyond what was thought possible.