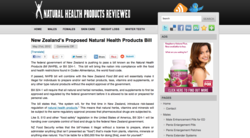 We're hoping to see something special
Los Angeles, CA (PRWEB) July 01, 2012
The online product review blog Natural Health Products Reviewed has recently acquired the services of two new website managers. The new managers are tasked with overseeing the regular operations of the website, and presumably of the other websites also under their group's management.
The names and credentials of the two new managers have yet to be released and it may be possible that these won't be announced anytime soon.
Head Web Manager Nicolas Camp admits that he realizes that hiring two different people to run the website sounds like a recipe for disaster, but he offers an explanation."
Camp adds that, "The reason for hiring two people to manage the site is not because that many people are needed to managing a single website. One person could do all that.
"We got two more people primarily because Natural Health Products Reviewed isn't the only website we're running right now and we'll need to delegate a bit. We also wanted more creative input into the process while at the same time adding more to our pool of technical experts," says Camp.
Camp goes on to state that his group has been tasked with handling more and more websites and that each one of these sites requires a hands-on approach, which need "extra hands" indeed.
The new managers are reported to start work on the website immediately and new developments can be expected in the very near future.
"Hopefully, the new guys can do a lot to impact our little health natural products blog. We're not just talking about writing about new health natural products. We're hoping to see something special," adds Camp.
About Natural Health Products Reviewed
HealthNaturalProducts.net features reviews of the latest natural health products, including natural weight loss products, organic skin care products, and natural sexual enhancement products. The website also features articles and blog posts about latest news in natural and organic health industry.