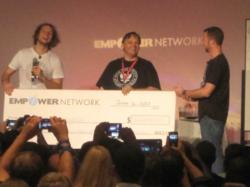 1,200 members showed up in Atlanta and 5,000 are expected in San Diego.
Phoenix, Arizona (PRWEB) July 02, 2012
Empower Network is a fast-growing movement of online entrepreneurs that began in October of 2011 and is looking for entrepreneurs who want to grow their businesses online. David Wood and David Sharpe wanted to build a marketing system that's easily duplicable, that's built on blogging, and members who join already have a Wordpress blog set up for them, eliminating the inconvience of spending extra money and not knowing how to set up a blog. Most of all, this system pays its members 100% commissions and it only costs $25 to join. The top leaders, including Tony Rush and Lawrence Tam, have all said to focus on "just getting two prospects in a day in order to succeed".
When Empower Network rocked out Atlanta three weeks ago, 1,200 members showed up and around 95% admitted that they were making between $25-200k. Many of these members retired from their dayjobs and were making money online for the first time and weren't big names. Unlike at most business conventions, where people try to pitch their products, Empower Network has a strict policy about not doing that at conventions and all members who attend must sign a waver to comply with it. As of now, no details of the San Diego event have been announced, but prospects should put their email here to find out so they will receive the announcements when they're made. Anybody who attends events must be a member.
What makes Empower Network so duplicable is first, to watch the videos and listen to every word that is said. Next is to get in, go through the 8-step training videos, blog daily with 1-2 posts, and spend about 2 hours a day blogging, marketing, listening to an audio in the back office, and read a few pages out of a book that helps their business. The slogan of Empower Network is "No Wussies Allowed". Income Disclosure can be found here. Plus, while 1,200 members showed up in Atlanta, 5,000 are expected in San Diego.