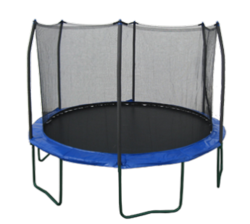 12 Ft and 14 Ft trampoline and enclosure from our trampolinepro.com store. We have a huge collection of trampolines, trampolline enclosures and more.
Santa Ana, CA (PRWEB) July 17, 2012
Trampoline Pro has announced that it offers 14Ft Trampolines at just $399.99 only. So, customers can purchase superior quality 14Ft Trampolines on new rate, and can enjoy their shopping with affordable purchasing. The company has declared this deal for its valuable customers so they can purchase these best quality trampolines at affordable rates.
Trampoline Pro is a leading manufacturer as well as retailer of superior quality trampolines and trampoline parts. The products that this online store has in its store, range from 12Ft trampolines to 14 Ft trampolines and also comes in with various trampoline parts and accessories. The online store offers best of warranties to its customers on the entire range of products that it has on its store. This online store claims to offer superior quality, best of prices, free shipping and secure shopping, all packed into one.
The store also has Trampoline and Enclosure systems sale wherein there are different sizes and one could choose the model that best fits his/her needs. Customizing and designing one's own trampoline is also possible with the help of frame, springs, color, jump mat, pad and net.
When contacted about the kind of advantages that the shopper gets while purchasing on the website, the online company's spokesperson replied, "We offer a full 5 year warranty on purchase of 14 Ft trampolines and also free shipping on all your orders. We also provide you with a chance to customize your trampoline and we assure you that it does not cost you more. You may get a highly personalized product from Trampoline Pro at a price that is equal to or perhaps lesser too to the price that you may get elsewhere in a sale. Take a look at our bestsellers and you may get an idea of what you would want for yourself too."
He also added that there were numerous benefits that one could come across if they invested rightly in a trampoline. The products, from Trampoline Pro as per the spokesperson, are built with last as they are crafted with great care in order to offer longer durability to the user. As per his claim, the trampolines from Trampoline Pro meet with all the weight rating safety specifications and hence they are the safest bet in the market. The frames come in rust resistant and heavy duty galvanized steel and in six legs too with a W-shaped design which offers maximum stability to the user, providing with greater elasticity and maximum jumping area.
Take a look at the featured trampolines and the trampoline accessories with the other outdoor products that are listed on the store's website. For further information related to the new arrivals, new happenings and ongoing sales on the trampolines and trampoline parts log on to http://www.trampolinepro.com