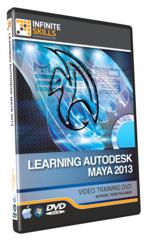 Learning Maya has never been easier.
(PRWEB) July 01, 2012
Software training company InfiniteSkills Inc. has announced the availability of a new Maya 2013 Tutorial Video course, which has been designed to help beginners learn to work with the industry-leading 3D modeling and effects software.
Because Maya is used across the film, video game and advertising fields and even has applications in industrial design, the InfiniteSkills training takes on the fundamental functionality that every user first needs to know. The course includes tutorials that show how to accomplish design goals within Maya itself and also features tips for using the software in a workflow with other applications.
The Maya course spans over 10 hours of instruction, using hands-on examples such as the modeling and rigging of an animated bird, the construction of an ornate gate structure and the modeling and rendering of buildings in a town square.
Autodesk Maya 2013 Tutorial Video - Training DVD
Starting with a tour of the Maya 2013 interface, with special tips for customizing the layout to fit individual workflows, the Maya training videos move through the creation of primitive shapes and objects, the basics of polygon modeling, NURBS, texturing, rigging, animation and more. The final chapters offer advanced guidance for perfecting cloth and hair and then rendering 3D models.
The lessons are led by professional trainer and animator Todd Palamar, who has created official guidebooks for Autodesk software and taught 3D production techniques at the university level. His examples are designed to showcase key Maya functionality while also offering applicable scenarios that reach into the professional world, according to Chris Johns, content coordinator for InfiniteSkills.
"Todd doesn't just teach the tools, he keeps the viewer interested and engaged with projects that would be right at home in a special effects studio or on a game design team," Johns said. "One of the big advantages of video training is that you can see the models come together in real time."
The Maya 2013 tutorial series includes work files that are compatible with Mac and Windows versions of Maya and match the training examples step for step. Johns says the hands-on focus of the training format has been shown to increase skill retention and reduce the time it takes to learn techniques.
The InfiniteSkills Autodesk Maya 2013 Tutorial Video course is offered on DVD-ROM or as a direct download from the company's website. Both editions are priced at $99.95 USD, with free shipping on DVDs throughout the United States and Canada and other delivery options available worldwide.
More information on the Maya training lessons and 14 free demo videos can be found on the course's product page:
http://www.infiniteskills.com/training/learning-autodesk-maya-2013.html
About InfiniteSkills Inc
InfiniteSkills is an innovator in the field of technology software training. The firm's progressive approach teaches complex topics by focusing on task-oriented training.This allows users to intuitively grasp a wide range of skills they can seamlessly integrate into their daily workflow. With DVDs, digital downloads, and iPad editions of its training titles, the company delivers professional quality training to customers anywhere they want to learn.