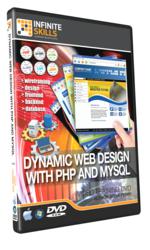 PHP and MySQL Made Easy.
(PRWEB) July 02, 2012
Software training company InfiniteSkills Inc has released a new Dynamic Web Design with PHP and MySQL Tutorial Video Course, which aims to help beginning developers learn to create complex websites with powerful back-ends and appealing interfaces to match.
As two of the most powerful and widely used open source technologies in the world, PHP and MySQL offer security, flexibility and the strength to produce and manage data-heavy websites. And because dynamic web pages are generated at the time of access based on inputs, these frameworks allow a great deal of interactivity with customers and end-users.
Training course author Steve Perry emphasizes these strengths as he shows how PHP and MySQL function at the most basic level. With the central example of a real estate website and special assignments in each chapter, the 12.75 hours of tutorials have been designed to encourage a hands-on awareness of what these technologies can do.
Learning Dynamic Web Design with PHP and MySQL Tutorial Video - Training on DVD-ROM
Beginning with a guided walkthrough of PHP and MySQL installation, the 125 dynamic web design training lessons teach industry standard development approaches and address common challenges faced when creating a dynamic website for the first time. The tutorials demonstrate PHP programming, including formatting, math, loops and more, with individual training in debugging for isolating issues.
Going into the basics of creating and manipulating tables with MySQL, the dynamic web training shows how to connect the framework to PHP and pass through data. Professor Perry shows how to use relative referencing, join tables and work with subqueries, with onscreen examples at every step. Finally, the training also provides lessons in working with Javascript, AJAX and CSS to achieve additional functionality and visual effects.
"This is an exciting and unique course because it covers so much ground," said Chris Johns, content coordinator for InfiniteSkills. "Today's websites leverage many different technologies, and this PHP and MySQL tutorial, with tips for AJAX and Javascript, is very much in line with that."
The InfiniteSkills Dynamic Web Design Tutorial Video is available from the company's website on DVD-ROM or as a direct download. Both editions are Mac and Windows compatible and retail for $99.95. Ordering options are available for customers worldwide, with free ground shipping in the United States and Canada.
The PHP and MySQL dynamic web design course joins recent training videos for MySQL 5, Oracle 11G, jQuery Mobile and Python as InfiniteSkills expands its coverage of database and web-centered technologies.
More information on the dynamic web design tutorial and free video demos can be found on the product page:
http://www.infiniteskills.com/training/dynamic-web-design-with-php-and-mysql.html
About InfiniteSkills Inc
InfiniteSkills is an innovator in the field of technology software training. The firm's progressive approach teaches complex topics by focusing on task-oriented training.This allows users to intuitively grasp a wide range of skills they can seamlessly integrate into their daily workflow. With DVDs, digital downloads, and iPad editions of its training titles, the company delivers professional quality training to customers anywhere they want to learn.