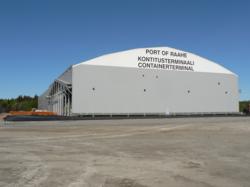 New container terminal gives Raahe a significant competitive advantage in the Gulf of Bothnia area, Finland.
Raahe,Finland (PRWEB) July 01, 2012
The First Automated Container Terminal in the Gulf of Bothnia (Finland) has been commissioned in the Port of Raahe.
The Raahe Container Terminal is the only one of this size and such high standards in the Gulf of Bothnia. As such, the Terminal opens up a wealth of possibilities for international shipping and the industries of northern and central Finland to containerise and export products to Central Europe and further afield, utilising the cargo shipping network setting out from Raahe.
From the port of Raahe there are regular links to Antwerp in Belgium, Hamburg and Bremerhaven in Germany, Vejle in Denmark, Hull in England, Ravenna in Italy and Szczecin in Poland. As a result, products containerised in Raahe can be easily exported overseas due to excellent cargo shipping connections.
"Our services will notably improve overseas transport, which gives Raahe a significant competitive advantage in the Gulf of Bothnia area," says Port Director, Kaarlo Heikkinen.
The Actiw LoadPlate container equipment has been developed for fast container loading. Long length products like sawn timber, steel girders and plates, pipes and large sacks of goods can be loaded in containers using the new equipment. The terminal handles 20 to 40-feet containers.
The container facility at the Port of Raahe is a MultiContainer system in which four container spaces can be loaded with a unit on a single track. This enables the importing of empty containers and the exporting of full containers, making handling even more efficient than before.
The terminal will be equipped with a number of automated doors, which will enable flexible handling of cargo. The container terminal measures 132 metres long and 45 metres wide. Its surface area spans around 6,000 square metres.
Raahe is now using a new ten-metre deep fairway and quay. This further boosts Raahe's position as a primary route in the Gulf of Bothnia area for transport services required in central and northern Finland and north-west Russia.
Raahe boasts good motorway and rail connections. The railway is electronic and rail traffic to Russia functions well, particularly via Kostomuksha to the Kola Peninsula.
600-700 ships call in at the Port of Raahe on a yearly basis. The year-round traffic has been increasing for almost 30 years. Various raw materials and bulk cargo, steel, timber, containers and project shipments are all transported through the port.
For further information, please contact:
Mr. Kaarlo Heikkinen, Port Director, Port of Raahe, Finland
Tel: +358 44 439 3930
e-mail: kaarlo(dot)heikkinen(at)raahe(dot)fi
http://www.portofraahe.fi