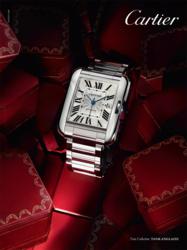 We feel very privileged to be the only retailer in the North West to stock this limited and exciting new addition to the Cartier range..." Rodney Banks-Lyon
Lancaster (PRWEB UK) 2 July 2012
Lancaster based jewellery and watch specialists, Banks Lyon Jewellers, have recently been announced as one of a handful of shops throughout the UK to stock the new and highly exclusive Cartier Tank Anglaise. Banks Lyon are amongst the few officially recognised Cartier stockists outside of London that will be carrying this new model in their stock. In fact, they will be the only stockist in the North of England and Scotland to have the new model.
The new Tank Anglaise model from Cartier is the latest of a long line of watches in the Tank family, which was established in 1917 and continues to be one of Cartier's most popular ranges to this day. The proprietor of Banks Lyon, Rodney Banks-Lyon made the following statement in regards to the news that his shop would be one of the few in the country chosen to stock this watch;
"All of the staff here at Banks Lyon are delighted to be selected as a stockist of the Cartier Tank Anglaise. We feel very privileged to be the only retailer in the North West to stock this limited and exciting new addition to the Cartier range and we anticipate a great deal of interest in this model from our customers."
Cartier's new Tank Anglaise model is available in a variety of unique and luxurious finishes and styles. Banks Lyon currently stock the watch with a solid yellow gold finish in both Ladies' and Gentlemen's sizes.
The initial Tank Angliase released, the 'large model' features a case which is 36.2mm wide and 47mm tall. The casing is just under 10mm thick, so it is a relatively slim watch considering its broad dimensions and substantial build. Featuring Cartier's own Caliber 1904 MC automatic movement, this watch is designed for simple, but reliable operation. The rounded edges to the casing give this watch a feeling of robust durability, but without comprising on elegant design.
With the availability of this watch in the UK being extremely limited it is likely to be highly sought after, particularly by aficionados of the Cartier brand.
Bank Lyon are also official stockist for a number of other respected and internationally renowned luxury watch brands of which they carry extensive stocks. Banks Lyon are authorised stockists of brands including Rolex, Omega, Breitling, Bremont, TAG Heuer, Tissot and many more. The Cartier Tank Anglaise and watches from all of the listed brands are available to view on the Banks Lyon website.