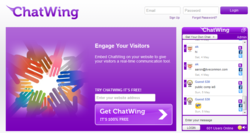 Burlington, VT (PRWEB) July 01, 2012
Burlington, VT – Blogging is now considered as one of the best and easiest ways of relaying information online. This is based on the numbers of blogs being created in different online communities day by day. Realizing the importance of this fact, the Chatwing development team has released the new version of their chat widget. This new version is faster, more stable, and can be installed in just seconds. Adding to that, it has a 600-user capacity, widening the range of a blogger's reach.
The Chatwing shoutbox is also known for its social media integration feature. This option allows its users to log in with their Facebook or Twitter accounts. Now, guests and visitors can exchange profile information with ease. This is why some Facebook group makers have relied on Chatwing when it comes to expanding their networks. For bloggers, the Chatwing chat tool is essential in making their blogs active. The chat tool does this by turning the blog into an interesting chatting lounge where people can discuss various topics.
Chatwing's developers are also planning to upgrade the user capacity of the shout box to 1000. In this way, more users can chat effectively and make new friends. In line with this upgrade, the Chatwing team will tweak the widget so that it can maintain its connection speed over large periods of time. The Chatwing chat tool is also adaptable to different blogs and websites because installation is very simple. After configuring the appearance of the widget, the blogger can retrieve a specific HTML code and embed it to his blog. In seconds, the Chatwing chatrooms widget will go live.
The importance of website chat will always be emphasized by the developers of Chatwing. The team perceives possible technical glitches ahead of time, and they are always dedicated to the betterment of their users. Chatwing will continue reaching out to online communities, helping bloggers gain a better chatting experience.
About Chatwing.com
Chatwing is a free live chat web based application for any web page online. Chatwing is very popular among blogs and websites who want to add an interactive element. The ability to let users communicate in real-time chat provides websites numerous advantages. Chatwing shoutbox also includes deep Facebook and Twitter integration. Allowing users to login to the chatwing chatbox with Facebook, Twitter, or as a guest is another great feature for websites. Chatwing website chat is 100% free. It takes seconds for anyone to create a chatwing account and customize the chat box and embed it onto any web page. Visit Chatwing.com for a live example and to sign up today.