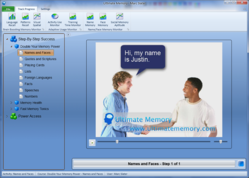 The end result is an extremely powerful, balanced and well-adjusted memory.
New York City, NY (PRWEB) July 01, 2012
Continuing their quest to help people around the world quickly improve their memory, Ultimate Memory™ today announced game-changing training optimization features.
The memory improvement software allows users to track their progress in real time and optimize their learning as they progress.
"The optimization features essentially allow people to finely tweak areas that need improvement while quickly advancing through areas where their strengths lay" says Marc Slater, Managing Director of the company behind Ultimate Memory™.
He continues, "The end result is an extremely powerful, balanced and well-adjusted memory."
Detailed records of performance are kept for each and every user. These include details of time spent training, activities used, performance and the specific improvements of various aspects of a user's memory.
"Improvement is continually boosted using a proprietary algorithm that works to intelligently boost all aspects of memory" Slater adds.
All data and results are neatly presented through a series of detailed graphs and charts. These visual interpretations afford users a powerful insight into their own progress.
The team behind Ultimate Memory™ is working diligently to find new ways to keep users motivated, inspired and on target. To date, their research has proven that the software's reporting functions perfectly suit and further improve the frame of mind of users.
"Just being told you're improving or falling behind isn't good enough. People need to be able to visually see a well-rounded picture of their progress. This is exactly what we are aiming to do with our training optimization and reporting features" Slater concludes.
For more information, please visit the official Ultimate Memory™ website.
About Ultimate Memory™
Ultimate Memory™ is the market's leading memory improvement software package.
Scientifically proven to improve memory with as little as ten minute's user per day, Ultimate Memory™ is also backed by an iron-clad guarantee.
Containing many innovative strategies, tutorials, tips and exercises, users benefit from a myriad of varied ways to learn.
More information can be found at: http://www.ultimatememory.com/