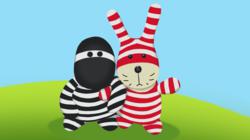 The new Socky Dolls™ range created by those clever people at the Intelex Group, will be available to buy from £11.95 in all good UK retailers this summer.
Northamptonshire (PRWEB UK) 2 July 2012
Ancient Greeks wore some of the first ever socks around the 8th century BC. Then thousands of years of evolution saw the creation of the ankle, the knee high and even the toe sock. And now...the Socky Dolls™. They can't be worn, but they can be warmed! Filled with treated millet and gently scented with lavender, in less than 2 minutes in a microwave the Socky Doll™ is ready to soothe aches and pains and become the perfect bed companion. The Intelex Group, creators of the original Hot Pak® and innovators in the microwavable product and heatable toy category, are launching their distinctive range of quirky Socky Dolls™ using 100% cotton sock material and available in 6 unique and fun characters.
For those who haven't heard of Socky Dolls™ yet, they soon will. From the UK to Australia, US and Europe, these little guys will be found for sale in all reputable retailers and online stores from August 2012. Retailing from £11.95, the Intelex Group is now taking pre-orders by phone for their new Socky Dolls™ range.
So what exactly is a Socky Doll™? Take the manufacturing know how and heatable technology of the Intelex Group, inventors of the original Hot Pak® and Pillow Heads™; Combine that with some very on-trend colourfully striped 100% cotton real sock fabrics then; Create some distinctive little characters that will capture the hearts and minds of children, teenagers and adults alike and not to mention always on hand to provide a soothing cuddle and a warm bed. That's what Intelex have done and the results are fantastic.
Weird, quirky, wacky and wonderful, these little characters are both fun and functional...who can stop at just one? So far, there are 6 Socky Dolls™ in the range, including Diddly the cow, a mothering type who keeps the other Socky Dolls in check. Mr Hootle, the wise old owl who always has the right answer. The little scamps of Boo and Wag the dog, tricky little pranksters always into mischief and Bandito (think the Mask of Zorro) and Bunty the red and white striped bunny, the extroverts of the group and best of friends. As the story goes, imagine a world where lost socks go to live, it really is not so much a sorrowful ending for lost socks, but a very happy beginning for these little fellows, who meander across sunny fields finding adventures and other lost socks to join their family along the way.
And yes it may appear odd at first that Intelex recommend placing the Socky Doll in the microwave for 90 seconds (STOP, its cruelty to Socky Dolls™! Right? Wrong!) Once the gentle aroma of lavender from the treated millet fills the air, the little Socky Doll is ready to spring into action, providing soothing warmth. Everyone will understand why the Socky Dolls™ don't at all mind a few minutes getting dizzy in the microwave.
Of course the appeal for children is obvious, but why do these lone sock rangers appeal to teenagers and young adults too? Well its simples. The younger generation are way too cool to use Grannies hot water bottles. Forget the whole kettle boiling malarkey. They simply grab their favourite Socky doll; stroll to the kitchen, give it the ol 90 seconds in the microwave and bam that Socky Doll is ready to de-chill. Plus, they just look funny and give people random fits of the giggles.
So there it is. Socky Dolls™ are coming, everyone will want one, and people should keep their eyes peeled to snap up the first ones in store. For a sneak preview of the Socky Dolls™ in action go to http://www.sockydolls.com.
The Intelex Group, the world's largest supplier of fully microwavable heat packs was founded in 1995 in London, with the objective to pioneer and commercialise a convenient solution to relieving everyday aches and pains. Winners of two HGCA awards and the British American Award for Innovation, their experienced design team continues to launch fresh and innovative heat pack products and soft toys to the market every year. Safety is of paramount importance and is at the heart of Intelex's manufacturing operations. With offices and warehouses in Hong-Kong, England, the USA and Australia, Intelex now supply over 8,000 retailers.
With 9 exciting new product ranges due to be launched during 2012 alone, Intelex are continuing to lead and expand the emerging heatable product category, which is creating profitable new opportunities for retailers and opening up a whole new genre of creative and functional gift ideas for consumers.