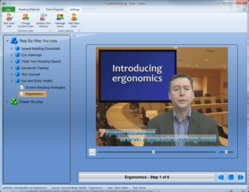 We fully engineered the Wiki-Connect™ feature to put the power of wider learning directly into our users' hands.
New York City, NY (PRWEB) July 03, 2012
7 Speed Reading™ is a critically acclaimed software package that aims to drastically increase reading speeds. Raising the bar once again, the company behind the software today announced its latest feature, Wiki-Connect™.
The powerful platform uses propriety technology to allow users to complete exercises using any article on Wikipedia, Wiki-Books, Wiki University and thousands of other Wiki-based websites.
"Until now, existing speed reading programs have been extremely limited in the amount of reading material that they offer" says Marc Slater, Managing Director of the company behind the 7 Speed Reading™ software.
He continues, "Our Wiki-Connect™ feature now brings speed reading training into the real world. For the first time users are able to learn by reading about topics that interest them, which in itself is proven to speed up progress."
In the past the speed reading software market has suffered from a lack of motivation among its users. The new technology from 7 Speed Reading™ is poised to change this pattern and re-engage users in a way that the market demands.
The technology also boasts the double-benefit of allowing users to learn interesting facts and improve their knowledge while simultaneously improving their reading.
"This didn't happen by accident. We fully engineered the Wiki-Connect™ feature to put the power of wider learning directly into our users' hands. They can now improve their reading speeds while learning amazing facts!" Slater adds.
To find out more about the Wiki-Connect™ technology, as well as the expansive range of features offered by 7 Speed Reading™, please visit: http://www.7speedreading.com
******
About 7 Speed Reading™
7 Speed Reading is the only modern speed reading software that uses the latest technology to produce superior results.
The software provides its users with a new way to master speed reading that guarantees three times the reading speed along with improved memory and comprehension.
The software is poised as the most comprehensive speed reading system anywhere. It contains seven learning strategies, fifteen software activities, video training, advanced tracking capabilities and many more exciting features.