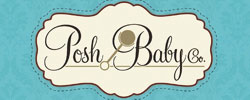 Beaumont, TX (PRWEB) July 05, 2012
Posh Baby Co. is best known for bringing Beaumont area parents the finest selection of high style and well known designer children's clothing, but that's not all they offer. Their Southeast Texas shop is now also home to the area's best selection of top quality furniture and home décor for any room in the house.
Customers looking to transform their homes need look no further than Posh Baby Co. Their vast selection of home décor includes everything from beautiful furniture to custom and designer bedding and more. Posh Baby Co. offers everything needed to create that luxurious dream room in any home.
Whether the master bedroom needs a complete makeover or the nursery needs furnishings, Posh Baby Co. has complete collections for every room in the house. With their selection, it is as easy to furnish an entire home as it is to add a few pieces to compliment an already existing collection.
In addition, their collection of wall décor and wall art will impress even the most discerning of tastes. The selections they offer come in a variety of styles that will fit in any home. From contemporary to luxurious to modern, Posh Baby Co. carries the area's best and finest wall art and home décor. They are also proud to offer a wide variety of custom picture frames and unique one of a kind items.
Even though the collection of furniture and home décor at Posh Baby Co. is large, each piece is hand chosen by style experts. This ensures that customers will find only the finest and highest quality pieces. By traveling around the country searching for the latest trends and styles, Posh Baby Co. is able to offer looks in both children's fashion and in furniture and home décor that simply cannot be found anywhere else.
About the company:
Since opening owner Erica Novak has been on a mission to change the way we look at style in Southeast Texas. She is on a mission to change the ordinary to extraordinary. Posh Baby Co. sits on a quiet street in Beaumont, TX but the hustle and bustle inside the store is anything but quiet. The store is alive with customers eager to see all the latest styles in baby and children's clothes, as well as home decor! Novak, mother of 3, is always on the lookout for the latest trends! She travels to Las Vegas and New York picking up original items. She's proud to showcase items that are unique and made by real moms. The store is acclaimed as an out-of-the-box stylish hot spot setting the standard for posh and stylish children in Southeast Texas! Visit Posh Baby Co. at 5955 Phelan, Beaumont TX or call 409-860-3331 to turn your child into a Posh Baby.