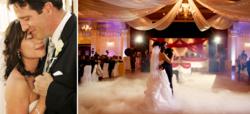 After the hustle and bustle of the big day, brides can't wait to see photos of their wedding
Toronto, Ontario (PRWEB) July 05, 2012
Having gorgeous, beautiful and touching photos of their wedding day is what most brides dream about right from the beginning! Planning ahead does wonders, and to make sure your wedding photos turn out the best they can possibly be, there are a few tips and tricks that we'd like to share with all brides-to-be. Below are some pointers on turning what could be mad chaos events and situations into your perfect wedding day photo opportunities.
LOCATION
Church – If you are using the church for family/guest photos after the ceremony, keep in mind that the church interior is usually dark and doesn't offer a lot of lightning. TIP: Move the family/guests outside if possible to take advantage of the natural light. If you do have to stay inside, look for areas with large windows that will allow for soft sunlight.
Formal photos – Take time to scope out some interesting areas close to the church or reception where formal photos with parents and the bridal party can be taken. Thinking ahead of somewhere to take these photos will make all the difference in the outcome of your pictures. TIP: You don't have to stick with a garden or park for these photos – why not try an urban downtown feel or the beach? Don't forget – if you are planning on using a Toronto or GTA park/garden for your photos, plan ahead and book a permit!
LIGHTING
Sunset – If you want those warm, glorious photos, there's a special time of the day (2 hours before sunset) that Photographers call the Golden Hours. This is when the sun is low on the horizon and gives a warm glow to your photos. This is a great time to have some couple shots and the photographer can take advantage of the stunning views of the surroundings. TIP: If you happen to be having your reception during the Sunset Hours, see if you can plan a quick 20 minute escape! Plan this time ahead with the Photographer so they can scope out a location to take you to at the exact moment of the Great Escape.
Direct Sun – The complete opposite of the above! This is where the sun is high in the sky, usually directly above your head around 12 noon – 2pm. Having the sun so strong and mighty is great, except for sun-in-the-face photos which could lead to squinting and over-exposed faces! TIP: If you are having photos taken outside at this time of day, try having a shaded area set aside where photos can be taken without direct sunlight beaming down.
PROVIDE AN ITINERARY
Providing an itinerary of your day, especially of your reception timeline, will result in a smoother event for you and the Photographer. If the Photographer knows what's going to happen and when, they can properly setup their equipment and be in the right place at the right time. Your cake cutting photos, first dance and bouquet toss will be captured at various angles and lighting situations to the delight of the bride! TIP: You may also want to make a list of important people you want to have photos taken with. If your Uncle Bob is visiting from Australia, or Aunt Sue visits all the way from jolly England, you'll be a little bit down if you don't get a photo with them.
BE PHOTO TAKING SAVVY – HAVE AN ENGAGEMENT SESSION
Having an engagement session before the big day is a great way to get comfortable in front of the camera, especially if either of you are not used to having lots of photos taken. You can figure out some posing techniques that feel natural and the Photographer can give you some tricks on how to stand to get the best results. This is also the perfect opportunity to get to know your photographer ahead of time and they get to know you! TIP: Find a place that means something to the both of you so you can customize the engagement session to suit your likes and personality. Most of our wedding packages include the engagement session, but if you are looking at a Photographer that doesn't include the session, it may be worth asking about it.
HIRE A PROFESSIONAL
Now, we're not trying to be pushy – but sometimes going the cheap route may not work for everyone! It's really tempting to have your friend/uncle/cousin/neighbour take the wedding day photos for you for free or really cheap, but it may not work out so well in the end. As a personal example, a few years ago a friend of ours hired someone very inexpensive with hardly no wedding portfolio to take their photos (before we started in wedding photography!). What happened? They were truly disappointed. Those were the photos they would treasure forever? Needless to say, they don't have any wedding photos up on the wall! TIP: If you are on a budget, don't be shy to contact your favourite photographers to see if they can customize a package for you. You may have to sacrifice coverage time or what products you receive, but by having great quality photos of the important aspects of your day will make it worthwhile.