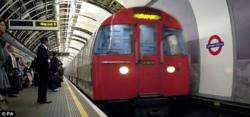 With the app we have developed, making a claim takes seconds and can be done instantly..
London (PRWEB UK) 2 July 2012
Liquid Bubble, the leading web and graphic design company that designed the innovative app for tube ticket refunds have today spoken out against the millions of pounds worth of compensation that remained unclaimed for last year, and have called for people to ensure that they claim what they are entitled to.
According to a recent study from YouGov, over 10 million tube users throughout London are missing out on the refunds they are entitled to due to delayed trains. Despite recent attempts from politicians and pressure groups to try and raise the profile of the issue, millions of pounds still go unclaimed every year - something which many believe is symptomatic of people's lack of awareness when it comes to their rights and entitlements.
Caroline Pidgeon, who is leader of the London Assembly Lib-Dem group and the Assembly's transport committee has been particularly vocal on the subject, and has called for a heightened profile for the rules outlined in the Transport for London's (TfL) charter stating that 'all passengers are entitled to claim a refund for the cost of a single journey if delayed for more than 15 minutes'. TfL stated that more than 11 million tube users faced delays of fifteen minutes or more during 2011 but only 3.65% of those claimed compensation, leaving over £20 million unclaimed last year.
Pidgeon commented, "It is bad enough to face severe Tube delays, but people shouldn't then miss out on the refunds they are entitled to...I would urge everyone to start claiming what they are entitled to. The Mayor and TfL will only start really to take delays seriously when they are hit financially by passengers claiming in full, the refunds for their terrible journeys."
It is believed that many people are discouraged from claiming compensation as they wrongly assume that there will be a long, complicated process to go through. For this reason, Liquid Bubble - one of London's leading web and graphic design companies - have created an app which makes it easy for people to claim their tube refunds. The app, which is available for iPhone, Blackberry and Android phones costs just 59p and allows the user to easily register the details of the delayed journey before having the claim processed for them.
Although this product was launched way back in February 2010, they, like Mrs. Pidgeon, are urging people to come forward and get back the money they are entitled to; Pritesh Ghelani, a spokesman from the company commented;
"I think people are still reluctant to claim because they perceive a long and arduous process ahead of them. With the app we have developed, making a claim takes seconds and can be done instantly. As soon as the delay occurs, the user can be safe in the knowledge that someone is processing his claim for him making the 40 or so potentially delayed journeys far more manageable."