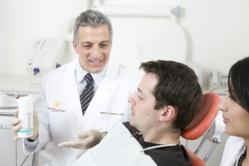 "Revitin's NuPath® Bioactives respect and work with the natural ecology of the mouth and feed the needs of the cells." Dr. David J. Shuch, DDS
Augusta, New Jersey (PRWEB) July 17, 2012
The scientific community is finally recognizing just how incredibly interdependent our bodies are with existing bacteria and Revitin™ Oral Therapy with NuPath® Bioactives is the most significant advance in oral health care in over a generation. Big name toothpaste and mouthwash brands have been convincing the public for years that stripping away and killing all bacteria is the key to proper oral health. However, according to the Human Microbiome Project, our bodies contain ten times more bacterial, viral, and fungal DNA than human DNA, which doesn't in fact make us sick, instead, it helps in many ways.
During the post war years, soap companies such as Lever Brothers and Proctor & Gamble sponsored TV shows with ads that began to convince the public of the hidden dangers of all germs and of the healthful benefits of killing them. An example of this can be viewed in a 1962 commercial for Stripe toothpaste made by the Levers Brothers. Other informative commercials by Proctor & Gamble's Crest Toothpaste and the Colgate Company's (later Colgate-Palmolive) Colgate Toothpaste aimed to convince and influence in the same way. Crest and Colgate remain the most popular toothpastes in this country, however, Revitin™ Oral Therapy with NuPath® Bioactives is the most significant advance in oral health care today because it does not strip away all bacteria.
Dr. David J. Shuch, DDS, who first developed the original formula of Revitin in 1996, says: "Revitin's NuPath® Bioactives respect and work with the natural ecology of the mouth and feed the needs of the cells. The conventional approaches to managing unhealthy oral environments by using detergents and antimicrobials to clean and disinfect, completely wipe out the good bacteria that our mouths need." According to a story by Carl Zimmer of the New York Times, Julie Segre, a senior investigator at the National Human Genome Research Institute said that killing all bacteria "does a disservice to all the bacteria that have co-evolved with us and are maintaining the health of our bodies." Using conventional toothpastes and mouthwash products strip away healthy, functioning ecosystems that aid in digestion and protect teeth and gums.
Revitin's NuPath® Bioactives is a proprietary and patented, all-natural formulation of vitamins, trace minerals, and nutritional co-factors. It fosters a balanced oral biofilm that supports healthy teeth and gums. Revitin is a lifesaver for people whose mouths have been rendered painful with canker sores caused by radiation and chemotherapy. These have been some of Revitin's most loyal customers because Revitin was the only toothpaste that was comfortable, soothing, and healing. Revitin helps heal various throat and mouth disorders including common cases of bleeding gums, and previous smokers who have used Revitin have quit smoking due to the aftertaste. For more information or to buy Revitin online, please visit: http://www.Revitin.com If you are a professional practice, wholesale or health store, please visit our Professionals section to learn more about carrying our product.